Markets are generally given to herd mentality. If some stock or investment starts zooming up, all make a beeline to follow it. At the same time, it takes a lot of courage to go ahead with your convictions and put money in something no one else is investing in.
In investment space, this is called contra investing. Some of the fund managers too follow the same path. They invest in stocks no one else is holding or very few are holding.
We have prepared a list of stocks held by funds, with a cut-off of minimum Rs 5 crore investment. Other than Reliance Long-Term Equity, which has around 12 per cent of its assets invested in such stocks, none of the funds has that high holding in any particular stock. Take a look at how these bets have played out over the years.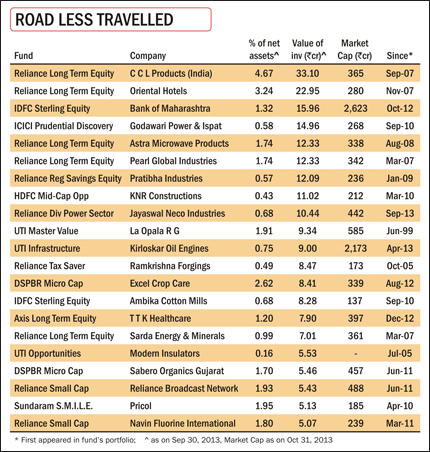 Win some, lose some
* UTI Opportunities is holding Modern Insulators since July 2005, but the trading in the stock has been suspended since November 2007
* UTI Master Value is holding La Opala R G from June 1999 and the stock has given rich rewards to the fund as the stock has gained 2,846 per cent in absolute terms since the fund has invested in it
* In the past one-year, the other five funds invested in Godawari Power & Ispat exited the stock but ICICI Prudential Discovery is still holding on to it despite the fact the stock has lost 30 per cent over this time