The chairman of Sebi, UK Sinha, speaks to Dhirendra Kumar on some of Sebi's measures and how it is changing the perception in the markets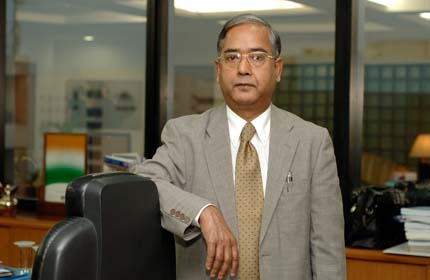 Though it is a little early, but how has the push on expansions outside the top-15 cities worked out so far? Is it too early? Are you satisfied with it or do you think some fine-tuning is required?
Sebi as a regulator started with an incentive for AMCs and the incentive is by way of allowing them 30 basis points of commission. That was an incentive we gave, but we have also told companies that they will have to start opening branches. They should start reaching to smaller places. The data which we have is for a very short period but around 2.7 per cent of the money is coming from beyond the top 15 cities. Gross inflows, which were coming till September 2013, have gone up to around 3.5 or 3.6 per cent. So in one way it is a very small increment but if you compare 2.7 to 3.6 per cent, it is a significant increase. So one can draw a conclusion that 50 per cent gross inflows are now taking place from beyond the top 15 cities. But still it is only in the range of less than 4 per cent. So there is a lot of scope to grow.
Coming back to my main point, we have started with incentives, we are waiting for the right opportunity when these incentives will be part of regulatory requirements and obligations. We have asked AMCs to report how much percentage of assets they are getting from beyond the top 15 cities, we have asked them to report how many branches they have opened. Maybe after some time we will mandate that one has to open offices, if you get a defined sum. While we have said that 30 basis points will be given, maybe we will have to mandate it. But we are looking for the right opportunities. Maybe because we do not want to do anything that will disrupt the industry. But, gradually we will be moving in that direction--having given the incentives, now we will put some obligations.
The vision of the common fund platform which can simplify the mutual fund industry has still not come true. Is it an unrealistic goal? A common platform where everybody benefits but nobody has enough incentives to start?
I have a few comments on this. One, if you are asking whether Sebi should mandate it, I think it is too early for that. It will not be correct at this stage for Sebi to mandate it. Second, there are different categories of investors. There is now a growing class of investors who are young, educated, tech savvy and they have surplus money to invest. There is a demand from this community that such a platform should be provided. So the industry will have to provide this.
If they do not do it, either one or two fund houses which have a very high reputation will get disproportionate share, or the money will go out of the industry completely to some other competing industry. That is the signal that is coming. So, I think there is a demand and this will happen. There is another class of investors in remote areas, who are not tech savvy, who need to be persuaded a lot, educated a lot. For them the current mechanism will continue. Hence, Sebi is not comfortable at this stage to mandate it, but as there is a demand from one class of investors, it will come up.
One of the biggest problems about mutual funds operationally in getting new investors, is the KYC. In case of mutual funds, the bank account is mandatory for redemption proceeds as well as making investments. What kind of timeframe will it be for one entity, when the KYC is done by other entity.
This has gone into a loop. Sebi has come out with KRA regulations. KRA regulations enable an investor to have KYC with any of the regular market intermediaries and the same will be valid, he does not have to do it again. There was a time when if you invested in one scheme of mutual fund, and wanted to invest in another, fresh KYC was required.
We have moved away from that so far as the securities market is concerned. You go to a broker, you go to a mutual fund, you want to enter the primary market, once you have done that, the KYC is applicable and we have consciously provided for multiple agencies. We have not given monopoly to anybody, and that is working very well. Of course, there were some teething problems. But my understanding and my position is that where the securities market is concerned, activation is taken care of through the KRA regulations.
The next stage is what you are suggesting, as to why we require multiple KYC if somebody is opening a bank account, going for insurance or pension. We have made suggestions to the government but for a variety of reasons including requirement from the banking regulators, they are now creating a central database, central registry. The government has started a project or a central registry of KYC for all financial regulators. That will take time and it has just begun. But for our investors, we have made things simple. For example, the Aadhar card is a valid proof of residence. Even e-Aadhar is something which is now being thought of and we are now ready for that. So we will keep on simplifying that process.
There is a huge amount of investment related activity on social media. It is a new animal which has come up. And along with genuine investors exchanging information, there are people offering services. Advice about great tips, and it is completely unregulated and they are not even publishers. How does Sebi take a view on this activity? And are you geared to deal with this?
The answer to the second part is much more difficult. As far as the first part is concerned, I would like to remind you that there was an instance originating from Ahmedabad sometime in July this year when multiple SMSs were sent offering schemes which were in the area of assured returns and guaranteed returns. And based on one of the SMSes, which came to our notice, we launched a probe and we have taken very effective action against that particular person.
I would also like to highlight that this is one case where the new ordinance helped us. The new ordinance, besides other things, also provides that we can get data from any agency, which means we can even get call records. Earlier, we were not receiving call records. We got the call records and from these records, we were able to establish how many people these messages have gone to and how it was transmitted. This group was planning to collect investment and many had put their money. We have taken action against them. So if people are using multiple media or social media for this purposes in a manner that is not legal, then Sebi should take action and it is bound to take action. On how well prepared we are? It is challenging area for us. We have to upgrade our skills, we have to keep doing that.