The current economic scenario has raised legitimate questions about the debt obligations of several companies and its pertinent from mutual fund investors point of view to evaluate the credit risk of several debt instruments that their AMCs have bought.
To begin with, open-end debt mutual funds are major investors in corporate debt. As on July 31, 2013, open-end debt mutual funds* (excluding liquid and ultra short-term funds) had invested Rs 1.03 lakh crore in this debt. But investors will be happy to know that 73 per cent of their money in debt funds is invested in AAA or P1+ papers.
However, investments in AA and below rated papers is also not insignificant. It stands at Rs 43,189 crore and accounts for 22 per cent of the total assets of debt funds.
Income funds have the highest allocation to these papers amounting to Rs 26,000 crore which is 20 per cent of the total corpus.
Templeton India Corporate Bond Opportunities fund has the highest allocation of Rs 3,865 crore to AA and below rated papers, accounting for 80 per cent of its assets.
Debt short-term is the next biggest category of funds with 30 per cent (Rs 17,041 crore) of the assets invested in these kinds of papers. Here again Templeton India Short-term Income is the fund with highest allocation of Rs 5,063 crore to AA and below rated papers; amounting for 73 per cent of its assets.
Clearly, Franklin Templeton MF has the highest exposure to such debt papers. Of the total open-end debt assets of Rs 28,698 crore of the funds house, 53 per cent of the money is invested in AA and lower rated papers.
But Santosh Kamath, CIO, Franklin Templeton, dismisses all doubts. "Our investment strategy is based on a thorough bottom-up analysis of a company along with independent in-depth credit research. If one has to merely build a portfolio full of AAA securities, there is not much active management or value add being brought to the table. "Typically, we have a pool of well researched 60-65 companies in our universe and we never had an issue with any holding. This also helps us benefit from the yield pick-up in a lower rated paper. At the same time, we have also avoided certain companies/sectors, despite their ratings."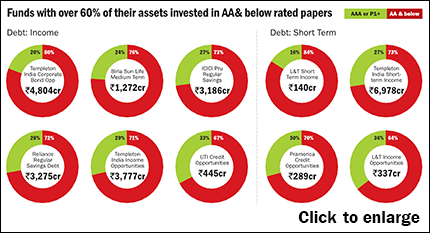 *Refers to the category of open-end income and short-term funds