I am 43-years old and earn Rs 12 lakh annually. I am looking for a term plan with Rs 1 crore sum assured. Please suggest a cheap and good plan available in the market.
P Kesavan
It is generally advised to take insurance in early years as insurers offer low premium rates to young and healthy applicants. However, it's never too late to realise the importance of one.
You can purchase a term plan online to save on costs. Online policies do not involve agents and hence pass on the low-cost benefit to customers as lower premiums. Few good online term plans include HDFC Click2Protect, Aviva i-Life and ICICI Pru iCare.
You should diversify your cover into two policies from different insurers. Take protection up to your retirement or till someone else in the family replaces you as bread-earner. You should choose regular premium payment mode instead of a single premium policy. Single premium plan may prove to be expensive as compared to regular premium payment option as you lock-in a large amount for a fixed cover. The reason we say this is because in case something goes wrong in early years of the policy, you have already paid a huge chunk of amount as premium to the insurance company.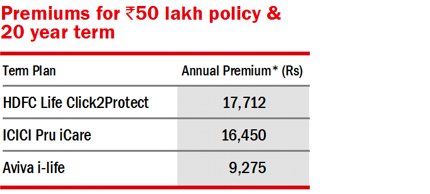 *Premiums were calculated considering you are healthy and a non-smoker. Insurer may charge higher premium depending on your health and lifestyle.