With interest rates softening after years of northward movement, the corporate bond segment is finally looking up as three big fund houses have filed offer documents of their new funds with the market regulator Sebi.
Reliance Mutual Fund, HDFC Mutual Fund and Religare Invesco Mutual Fund will join three other fund houses -- ICICI, Principal and Templeton -- which currently invest in corporate bonds.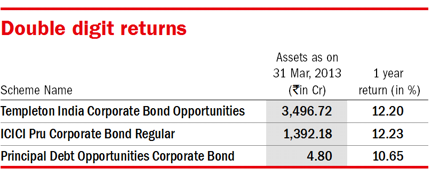 Keeping in mind the still-unclear macro environment, the new schemes would be open ended income schemes which will predominantly have a longer duration.
Amit Tripathi, head-fixed income at Reliance Mutual fund, says, "I think our major focus will be not to keep the duration very short and try to position it between 3 and 5 years. Going forward, as the broader interest rates play out we might reduce the duration, but for now it will be long term."
India's bond market predominantly consists government securities and corporates have a very small fraction of the pie. But with corporates now needing the capital to expand their businesses, they will launch long term bonds instead of raising capital from banks. "The corporates are finding it attractive from the price perspective to borrow in the debt market compared to borrowing from the banking system where rates still are relatively high. Also, the good quality corporate bonds offer additional yields without taking too much of credit risk," adds Tripathi.
Market participants say another reason to come out with such bonds at this time is because good quality PSU bonds and private companies' bonds are already fetching 65-90 basis points over government securities without taking undue risks.
Sujoy Das, Head-Fixed Income, Religare Invesco MF, concludes: "Investors should have an investment horizon of at least 3 years and at the same time look at the credit quality of portfolio. As we would be running an average maturity of over 5 years, longer investment holding may give accruals as well as capital appreciation."