My parents are senior citizens. My father is 64 and my mother is 61. They do not have a big retirement corpus, so I think they need a health insurance. Can you suggest a good health insurance for senior citizens in India. Also, would it be advisable to get individual or floater plan?
-Shweta Aroskar
We have shortlisted two policies-- Apollo Munich Optima Senior and Star Senior Citizen Red Carpet Plan for your needs. Both these policies are for senior citizens and offer lifelong renewal. These plans offer maximum cover up to Rs 5 lakh. Both policies cover hospitalization expenses, pre and post hospitalisation expenses and ambulance expenses. Apart from these benefits, each plan has its own USP.
Apollo Munich Optima Senior
Apollo Munich Optima Senior also covers treatment taken at home and 140 day care procedures which do not need 24-hours hospitalization due to technological advancement. It will cover pre-existing diseases after a period of 3 years. The policy has co-payment clause on treatment of certain diseases. Co-payment requires the policyholder to pay a certain percentage of the claim amount. Also, this policy covers hospitalization expenses without any sub-limits. The sub-limit clause is a part of most health policies and imposes limits on payments of treatment cost or room rent for certain illnesses. The company also assures that premiums will not be increased in future merely on basis of claims made in the past.
Star Senior Citizen Red Carpet
Star Senior Citizen Red Carpet covers pre-existing diseases from first year itself except for those that arose in previous 12 months. Such diseases will be covered from second policy year. In case a claim is made for pre-existing disease, insurance company will bear only 50 per cent of the total admissible amount. Policyholder will have to pay the remaining half. This policy requires you to pay 30 per cent of hospitalization bill each time the medical facilities are availed. Each benefit under this policy is capped to a stated limit. On renewal, the premium of this policy may increase by 20, 30 or 50 per cent depending on claims ratio in previous two years.
Comparing the features, Apollo Munich Optima Senior is a better policy but its benefits come at a higher price. Apollo Munich also offers a discount of 5 per cent if both husband and wife buy the same policy and an additional 7.5 per cent discount on premium if you pay 2-years' policy premium together.
We recommend you to go for individual cover over a floater cover because it may happen that one of the insured member uses major chunk of the Sum Insured leaving little or no cover for other members. Do not take floater policy for your parents. Premiums payable in both policies as stated in the policy brochure is as below:
Annual Premium Rates for Apollo Munich Optima Senior



Premiums are exclusive of service tax and cess.
Annual premium Rates for Star Senior Citizen red Carpet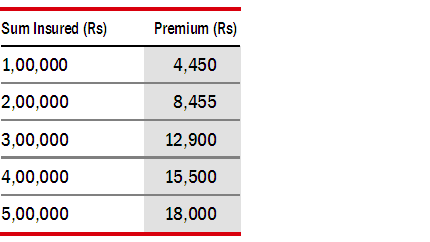 Indicative premiums; irrespective of age; exclusive of service tax