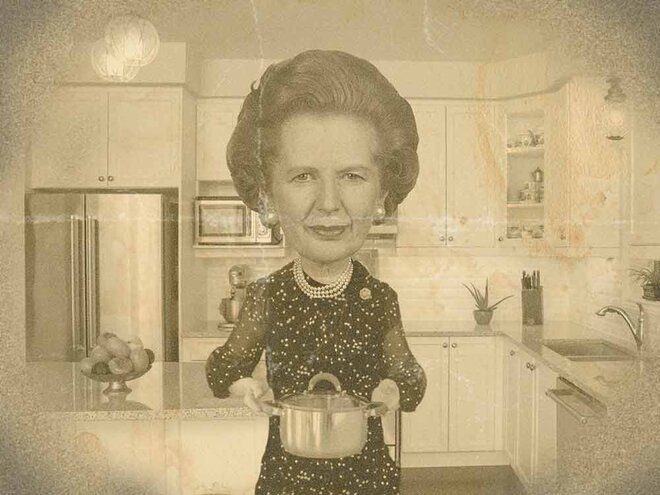 I met Margaret Thatcher three or four times - 'met' is perhaps the wrong word. I only saw her, but the first time our paths crossed are fresh in memory.
She was not Thatcher at that time, nor was she well known. A friend of mine - actually a colleague from my office - had invited me for what was at that time known as Saturday supper, mainly drinks and something to eat, and there were many others, including a girl called Margaret, who apparently had gone to the same college at Oxford as my friend. He was well connected - his mother was a niece of Bertrand Russell, and his father a high-level officer in the government, who had also spent some time in Delhi as an expert on famines during the war. It was a pre-Christmas dinner or supper and we all had gathered in his posh flat in Regent's Park.
Everybody was supposed to bring something to eat - those were the days of rationing and food was scarce. I do not remember what I took but it could not have been much. It was my first job and the salary was a pittance.
Suddenly, somebody had an idea. Why not prepare a curry? Curries were in fashion and most of the stuff was easily available - potatoes, tomatoes and onions, and of course, spices. I was the only Indian, and they all pounced on me, though I had not cooked a curry in my life!
Margaret - yes, the same Margaret who later became Margaret Thatcher - came to my aid. She chopped the onions and tomatoes and potatoes, and I was supposed to do the rest. I tossed it all in a saucepan, added spices, and prayed. My friend Robert cooked the rice and we had a feast.
Margaret didn't say much at the time, and I doubt whether we exchanged more than a few words. She said she was a chemist but without a job just then. When we departed, after devouring the fiery stuff, we said the usual good-byes and went our ways, and I did not see her again.
That's not quite true. By the time I saw her again, she was the prime minister, an unlikely position for a girl who had prepared the curry. She was making headlines all over the world and lived in No 10, Downing Street.
I first saw her as PM, first, of all places, in Bonn, where she was attending a European conference, and I was invited from India, as a reporter. I could not make out half of what she was saying, as she had acquired a sharp, cut-glass accent - the so-called Oxford accent - and she spoke so fast, most of us simply sat there and looked at her.
The second time I saw her was in London, also at a European Union meeting. The accent had become even sharper and she had acquired an 'imperial' look, which Britishers often do when they try to look very important. She had become an international leader, fraternising with the likes of Ronald Reagan in America, and may be Indira Gandhi in Delhi. Her transformation from the girl who cooked a curry in Regent's park to a world statesman had been swift as well as scary to some, but she apparently didn't care.
A couple of years later, I was again visiting England, but this time I was to address a student's meeting in a place called Bristol, and I could see subtle changes. People were beginning to talk about Thatcher in hushed voices, as they did in Soviet Russia, and most of what I heard was not complimentary. Waiters in restaurants clammed up when you brought up her name, and a newspaper vendor said he was "sold out" when I asked for my paper, though he had never done that before.
At my Bristol hotel, I asked the maid who was doing my room, how she and her friends were doing, and the talkative girl suddenly fell silent. This had never happened before, for England had always been a friendly place - at least to me - and people talked freely.
"Don't mention her to me" said the girl, and stomped out, as if I had offended her. I did not press her. A year later, Margaret Thatcher, was out of No 10 Downing Street, stabbed to political death by her own colleagues, just like Julius Caesar, two thousand years earlier. For the girl who cooked a curry for us, it was a hot farewell!
This column was first published in May 2013.