How does a debt fund like IDFC GSF PF Regular generate an annual return of about 15 per cent? Is it because of appreciation in bond prices in a falling interest rate regime.
- Pramod Kumar
IDFC Government Securities Fund PF is one of the top performers in the category of medium and long-term debt-oriented gilt funds. The scheme seeks to generate reasonable return with high liquidity through investment in government securities of all maturities and Treasury bills.
This fund has performed well as it invested in long-term government securities at the right time, when the interest rates were slightly higher. Rate cuts make older government securities with high interest rates more attractive. Last year, the fund held securities with longer maturity period which gave it good returns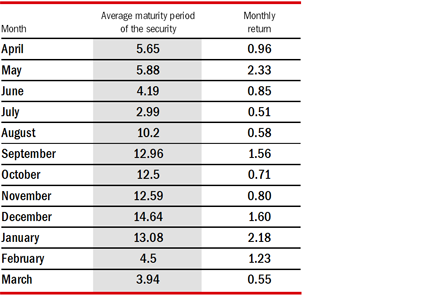 Also, one-year returns from this category stand at 12.6 per cent. So, the category in general has done well and this fund is not an exception but a good performer.
The value of bonds is influenced by prevailing interest rates. The daily NAV of a gilt fund is calculated by valuing a variety of government bonds, which a fund has invested in, and are traded in the market. As interest rates change, the value of the securities in which the scheme has invested, fluctuates as well. This, in turn, will be reflected in the changing value of the fund and it's NAV.