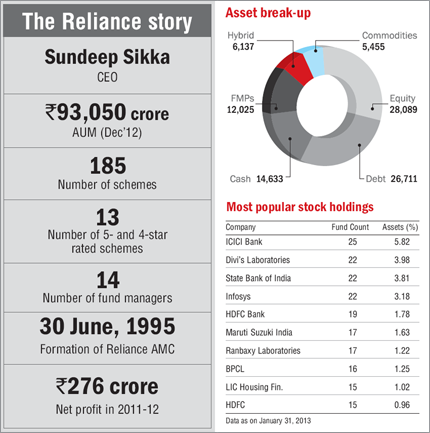 If Reliance Mutual Fund were a cricket player, it would be someone who started out as Virender Sehwag, but then made a huge effort to change himself into Rahul Dravid. Has this transformation been a success? We don't know yet. Around the turn of the century and first half of the last decade, the fund house made its reputation by generating impressive returns in a handful of relatively small funds, albeit with an air of street-smartness about the way it managed to do so. Armed with a fearsome reputation for generating outsize equity returns, it conducted a string of extremely successful new fund launches, collecting Rs 18,720 crore of fresh assets in four years from 2006 to 2009.
However, as with almost all aspects of the financial industry, the global economic meltdown of 2008 became a major roadblock in this progression. While investors lost a lot in all funds, new funds launched just before or during that phase fared the worst. Reliance Mutual Fund's Natural Resources fund and its Infrastructure fund became poster children of this phenomena. Still, time and some deft asset management has healed most, but not all of the wounds and one way or another, investors have moved on.
In sharp contrast to its early years, today's Reliance Mutual Fund is much larger, maturer and substantially more driven by process. However, the hunger to grow more is unabated. "In a few years, the fund industry will have grown to assets of Rs 20 lakh crore, and we'll have Rs 10 lakh crore of that," says CEO Sundeep Sikka. Sikka's ambition is certainly eye-catching – currently, Reliance Mutual Fund manages Rs 93,000 crore in an industry of Rs 7.25 lakh crore. This target involves raising market share from 13 per cent to 50 per cent.
Getting back to the investor's experience, the returns generated by Reliance's equity funds in recent years does not add up to a substantially impressive performance when compared to their peers. While the AMC has had some impressive performers like its Top 200 Retail and Equity Opportunities funds, a bulk of the funds are either middling or lagging. If one looks at the average quartile of trailing 1-, 3- and 5-year performance of funds with at least a 3-year history, then of the Rs 26,000-odd crore of equity funds it is managing, Rs 7,600 crore is in funds in the top quartile and another Rs 5,200 crore in the second quartile. Bringing up the rear in the last quartile are Rs 11,600 crore of assets. Unfortunately, this last lot includes one-time star turns like Reliance Vision and Reliance Growth as well as Reliance Equity – all large funds with broad investor bases. Reinvigorating the performance of these funds is a key fund management challenge that the AMC has to tackle. In debt funds, investor experience is better, and more uniformly so. Of the roughly Rs 40,000 crore of assets it manages in such funds, almost Rs 35,000 crore is in funds that are better than the median.
An important part of the way Reliance is managed – and one whose eventual impact on your investments is large – is risk management. Risk management is an entirely independent internal function that evaluates the risk profile of funds' portfolios and managers' actions and ensures that it stays within prescribed limits. According to Sikka, given the large number and diverse characteristics of funds that the AMC runs, risk management is a large and visible function. At Reliance, the risk function reports directly to the board. An offshoot of this approach is the basic discipline of portfolio construction. The fund house has clearly articulated the position that each individual fund is to take. These sectoral, size and stock-level guidelines are strictly followed.
The systematic approach to fund management extends to the size of the fund research and management teams. The equity team is made up of 6 fund managers, 3 assistant fund managers, 8 research analysts, 2 dealers and support staff. At the same time, the debt team has 2 fund managers, one head managing 3 credit analysts, one research analyst each for macro-economic and fixed income, besides a trader. Continuity of the Reliance team is also exceptional. A bulk of the team on the investment as well as the business side has been around for more than six to seven years.
Reliance's ambition on asset size doesn't exist in a vacuum – it is backed by a plan to achieve breadth in the variety of funds, as well as geographically, both domestically and globally. The AMC's 14 diversified equity funds span literally every category of funds that Value Research has, save a couple of small sectoral categories.
An aspect of this variety that investors will find interesting is the huge focus on Exchange-Traded Funds (ETFs), of which they are planning to launch as many as 15-20 over the next couple of years. The ETFs are being launched under a new, distinct brand – R*Shares. The ETF strategy is in response to increasing sophistication of financial advisors and investors who can use a wide range of ETFs to create any kind of investment solution. ETFs are also central to Reliance's global ambitions since they are increasingly the favourite way to invest in the west.
Domestically, Reliance's expansion is also predicated in geographic spread. It has 221 branches – far larger than those of other large AMCs – HDFC and ICICI-Prudential both have around a 100. The spread also means that Reliance's headcount is more than a 1,000 – very high for an Indian AMC, and up from just 40 a decade ago. Says Sikka, "One can cut branches and increase profits, but we prefer to invest in the future." With the multifaceted expansion that Reliance is implementing, not only investors are more likely to find a Reliance fund of the type they want, but have physical access to the fund house as well. And the access is not just physical. Reliance has a well-developed digital strategy – the AMC claims the highest proportion of direct online investments in the industry. It also has apps for tablet and mobile environments as well as a healthy following on social media.
One completely new factor that has entered the AMC's business is it's Japanese partner – Nippon Life Insurance Company (NLI), which owns 26 per cent of the AMC since August 2012. Sikka appreciates the cultural fit – Nippon people respect the fact that Reliance knows how to run its business and hence there is no interference. However, the AMC is open to learn from its Japanese partners and as he says, "Americans generally try to throw in their weight but Japanese are like any other Asians. They respect you."
While rivals may question Reliance Mutual Fund's ambitious plans, investors can have a reasonable hope that practices and processes that underlie their investments will deliver the kind of returns they are looking for.


Read part II of the article talking about AMC's best and worst performing schemes here