This mid-sized cement manufacturer also sells merchant power. For the half-year ending December 2012 quarter (Shree's year-ending is in June), two primary factors helped the company leapfrog FY12 performance. The first is the scaling up of its power business – up 120 per cent (y-o-y) and the second is the steady growth of its cement business – up 20 per cent (y-o-y).
Outlook and Valuations.
"The company is expected to see its Ebitda grow by 20 per cent annually over the next 2 years," says Krupal Maniar of ICICI Securities. Volume growth is expected at between 7-10 per cent during the same period while realisations are expected to move up 8 per cent CAGR. Maniar estimates the company should generate operating cash flows amounting to Rs 2,800 crore between FY13-14. Capex in this period is expected to be at Rs 1,800 crore. The company has a net cash of Rs 1,300 crore levels. Shree trades at 16.7 times its TTM earnings.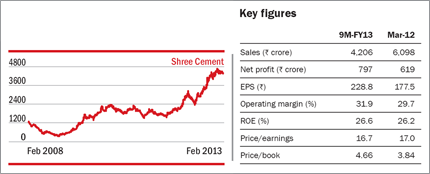 How they did it
* Capacity utilisation of its power business shot up from 32.9 per cent in the September 2012 quarter to 84.1 per cent in the December 2012 quarter
* Severe power outages in North India aggravated by restrictions on inter-regional transfer of power after the grid failures of July 2012 helped turn the matters in the company's favour