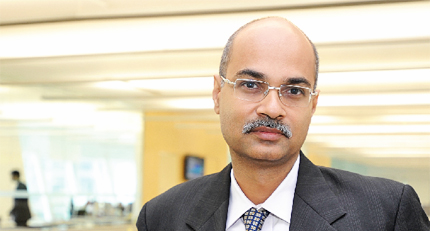 How will you approach large-cap stocks for IDFC Imperial Equity Fund?

In this fund, we try to be close to the benchmark and try to derive incremental returns from the universe of the top-70 companies in the country. The fund does not have any sector bias but relies strongly on the growth of the underlying companies to hold it together.
Financials and pharmaceuticals are two sectors we have allocated monies to which is higher than the underlying benchmark. Pharma and IT are two parts of the market which are logically defensive currently since they have dollar-denominated earnings and there are a number of these opportunities in the large-cap space. Investments in these sectors protect us from domestic volatility. Even here, we are not betting much on the investment cycle kicking off I believe that infrastructure is more about cash flow generation than expansion of the economy and I don't think this economy will expand for some time.
How will you approach mid-caps for your IDFC Sterling Equity?
Sterling has just completed its 5 years in existence and diversification has helped it circumvent the underlying volatility in the market. The performance of the fund, I would attribute this to a few things that have worked for us. We only look at the companies that grow within the industry – companies that dominate market share or are leaders in their respective category or niches. Second, the company should be capital-efficient through the cycle. Managements need to respect capital. Third, the company should have extremely low debt and not too much leverage in its books.
Once most of these aspects are in place, the probability of the company doing well is reasonably high. In this fund, stock-picking ability comes in and we try to pick the best companies within the individual sector that will drive their respective industry. This has been the strategy, and we will continue to approach stock picking in this manner. We want to stick to diversification and have all the components of the benchmark represented in the fund. In this particular scheme, we are more focused on stock-picking against having any large sector bias.
What is the outlook for your infrastructure fund?
In this fund, our focus is very simple as it's a consolidated market. You invest in companies that will generate cash flows which will further drive price earnings multiples. Once a company is identified, based on this aspect, we invest in them. With infrastructure, we need to look at it differently compared to 2008. In that year, the banking system funded all large infrastructure projects and for many reasons projects got stalled. We are now seeing a cycle where banks want to see closure of projects which materialise in cash flows. What is required for infrastructure is equity, not more loans. But equity is not finding way into infrastructure.
We need policy changes for the demand to kick-start all over again. Once both these things happen, the cost will come down and profits will move up. I believe we have to wait for another two years for infrastructure companies to show profits. If money is not chasing the system, one can't expand the economy and that is the reason why infrastructure sector has been stuck for so long.
How long is your mid-cap watchlist which are not in your portfolio?
There is no particular number which we look or follow. We keep a watch on every company which is investible. So firstly, the size of that company has to be relevant and we have a data base of companies that are not hugely leveraged and whose profits are growing continuously. We also look at companies which are reasonably high on dividend yields and have given dividends for very long time. For us, this is our watchlist and we revisit them every quarter and try to do calls with companies on a regular basis. If the factors discussed above remain consistent over multiple quarters, we are comfortable in investing in those companies. However, if you want the number of our watchlist, there are little over 500 companies which have a turnover of over $100 million and they remain on our watchlist.
How do they make inroad into your portfolio?
I think primarily for us companies that get market share or are leading in the category, we get very interested in those companies. If any company is doing well which means that they have been executing the plan well on the ground. And if they are able to execute their strategy properly, they have a product which is getting them their market share.
So, if any company fulfils the above criteria we look into their financials and how they respond towards the topline growth. As we believe it is very easy to grow your sales number and not your profits. So, if all these aspects fall into place, it becomes a viable option for us to look at that particular company.
To Read Part I of this Interview, Click Here.