In the backdrop of a weak economy, Kenneth Andrade of IDFC Mutual Fund is optimistic about the future prospects of the markets. In this interview with Chirag Madia, he shares details on how he manages his funds and his outlook on the markets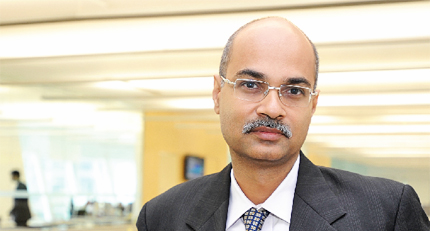 After a strong 2012, the market seems to be losing steam. What is your outlook for the equity market in 2013?
Basically we had a very buoyant 2012. Equities on an average returned 35 per cent but this was on a very low base. Over a two-year framework returns are still high single digit. So, while 2012 appeared to be strong, it was a catch up with a not so exciting 2011. While saying that, we are one of the few countries across the world where corporates have been able to grow absolute profitability.
In the current year the economic data will continue to look weak. But that does not surprise up since the numbers have been trending downwards. We are also heading into an election year in 2014. So, from the macro perspective, the economy will tend to be fairly volatile. There are a couple of things that will hold up this year. Elections which could be an $15bn expenditure by all political candidates and the increased social sector spending through budgetary allocations would hold up the head line numbers. If the monsoons are good then numbers will spring a nice positive surprise.
The markets in the past 3-4 years have moved in a band between 16,000 to 20,000 points and have been consolidating at this level. Sectorally, however, the participants have changed. The market has found new leadership and this will be in continuation. There are some pockets of the environment which have based out in terms of valuations. So, frankly put, we should not worry too much about the capital risk as of now, but our main concern remains on how much money can be made on the upside. We have seen most of the companies that are not investible are already at the bottom-end of the price spectrum and rest of the market looks pretty okay. We have to remain a little careful on the macro data as it is likely to be negative from the Indian as well as the international markets.
However, it will not have much impact on the valuations very significantly. If you ask whether investors will make money in 2013, my answer is yes. But, will it give similar returns as we have seen in the last year? My answer to that is no.
Given your outlook, what would be your overall investment approach?
It will mostly remain the same, though there will be some minor changes. If earlier we were very consumer-driven and growth-focused (as that was the only sector that was growing), today we are trying and picking up cyclical bottoms in the economy. So, given the current environment, our overall portfolio of the funds for now is pretty balanced than it has ever been. Earlier, we had consumer space and outsourcing as part of our portfolio. We even had little exposure to investment economy in the middle of 2011. But as we enter 2013-14, we are now moving with a diversified portfolio, without having any major bias towards a particular sector.
What we are doing now is diversifying across sectors of the economy such as investment and outsourcing. But, I would also state that we are somewhat inclined towards public sector companies and are building our portfolio around them. We believe these companies have always been an extension of government finances. They normally do best when the government finances are best and they do worst when the government finances are stressed. Hence, given the current situation, with the finances of the government on the downswing we are pre-empting the cyclical and allocating capital to PSUs. If India wants to go back to its winning ways again, the finances of the government should improve and these are the companies that can take the lead. From a product basket approach we now have a product in every large category in the equity and hybrid funds.
How does this translate into a strategy for your prominent fund like IDFC Premier Equity?
There has been no quantitative change or even qualitative change as far as our portfolio is concerned. We started trimming down our weightage to the consumer part of the economy some time back and have made it more balanced to include some utilities and cyclical sectors. That is how we want to build the portfolio of this fund going forward. I would say that for us, the opportunity is well-diversified and in terms of expectation level, we are looking at where the valuations are placed. But that doesn't mean we dislike consumers and the FMCG sector. We will continue to remain large on consumer cycle as our country will be a large consumer economy, even if the investment economy will take some time to revive. Everything is in place for the next 2-3 years and we have to see how we can capture the current gloomy environment in the future.
How does your investment approach translate into strategy for your IDFC Strategic Sector (50-50) fund?
In this particular fund, the corpus is quite small and the performance of the fund has been volatile. According to the objective of the scheme, one can invest up to 50 per cent of the assets in a chosen sector. We have allocated money into the financial sector, that too mostly in the public sector banks.
Click here for Part II