Torrent Pharma is a mid-sized pharma company with revenues of Rs 2,700 crore (FY12). It has a strong presence in cardiovascular (CV) and central nervous system (CNS) segments besides being present in gastro-intestinal, diabetology, anti-infective and pain management segments. Beyond India, Torrent has significant presence in the US and Brazilian markets.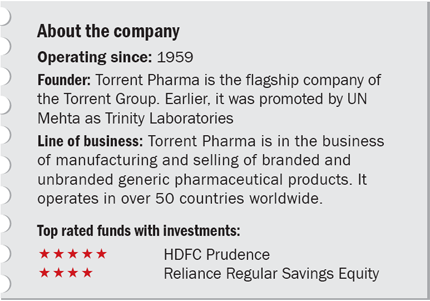 Strengths
* Strong presence in cardiovascular and central nervous system segments
* Six of Torrent's brands are among the top-300 pharma brands in India
* Strong growth momentum in the US market
* Margins expected to sustain at current healthy levels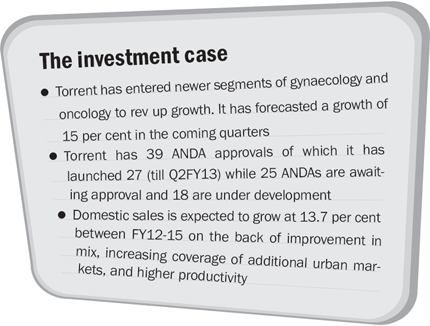 Growth drivers
Torrent has a strong presence in India. It is ranked number two in the cardiovascular and number four in the neuro-psychiatry segments in India and has six brands among the top-300 pharma brands in India. Domestic formulations accounts for 35 per cent of Torrent's total revenues (FY12).
* In the past three years, Torrent's growth was muted on account of increased competition. The company is looking to address this through consolidation of its presence in its key therapeutic areas and various brand building exercises. It has increased the number of marketing representatives (MR) by 700 to 2,900 in a bid to reach more doctors and improve its coverage
* Torrent has also entered newer segments of gynaecology and oncology to rev up growth. It has forecast a growth of 15 per cent in the coming quarters
* Focus on acute portfolio including anti-infectives and gastroenterology has resulted in the company reporting 15 per cent growth in revenues (y-o-y, Q2). Acute segment contributed 40 per cent of the domestic formulations while chronic segment accounted for the rest. Chronic segment grew by 15 per cent on the back of good growth in CVS and diabetes portfolio
* Torrent's Ebitda margins for Q2FY13 came in at 21.8 per cent. That was above the market's expectations. An improved performance in the domestic market and growing sales in the US helped the company post improved numbers. A weak rupee helped reduce raw material costs (29 per cent of sales) by 2.4 per cent (y-o-y)
According to Kartik Mehta of ICICI Securities, domestic sales is expected to grow at 13.7 per cent between FY12-15 owing to improvement in mix, increasing coverage of additional urban markets, and higher productivity. Bino Pathiparampil of IIFL, too, feels that margins should continue to improve going ahead as the company consolidates its good show both in the US and domestic markets. "We expect 110 basis points Ebitda margin improvement in FY13," says Pathiparampil.
Torrent's US business accounting for 12 per cent of its revenues grew 27 per cent in dollar terms (y-o-y, Q2). That was excluding one-time licensing income of $2 million. Torrent has 39 ANDA approvals of which it has launched 27 (till Q2FY13) while 25 ANDAs are awaiting approval (with innovator market size of $27 billion) and 18 are under development.
* Torrent's good show in the US was attributed to the launch of generic Singular in Q2FY13 and ramp-up of recent launches – Plavix, Seroquel and Zyprexa (launched in Q1). Torrent has guided 7-8 new launches in the second half of the current financial and hopes to continue launching 7-8 products every year. After nearly four years of operations in the US, Torrent broke-even in the first quarter of the current financial
Manoj Garg of Edelweiss Securities feels US sales should grow by around 35-40 per cent in constant currency over FY13. According to Mehta, Torrent should be able to keep its momentum of US sales growth of 32.7 per cent CAGR over FY12-15 with US sales accounting for 11 per cent of its total sales in FY14.
Concerns
The most immediate concern for Torrent is the Brazilian market which has seen revenues taking a hit. Brazil is a vital market for Torrent. The company has managed to capture 6 per cent market share in its covered market in Brazil. During Q2FY13, however, sales took a hit on account of a strike in Brazil's regulatory agency ANVISA last year resulting in delayed release of Torrent's products from the Brazilian ports and drying up the company's existing inventory with the distribution channels.
* Torrent's sales and market share have both taken a hit. While sales are down 7 per cent (y-o-y, rupee terms), (3 per cent in Brazilian currency), market share in 4-5 key products has been estimated to have been hit. A slowdown was seen in CVS and CNS segments which are the key segments for Torrent in that geography
* Staff cost (21 per cent of sales) was up by 34 per cent (y-o-y). Higher promotional spends and forex losses aggravated other expenses (33 per cent of sales) and was up 22 per cent (y-o-y)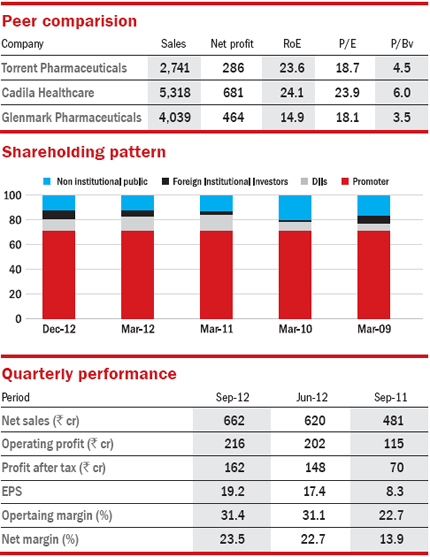 The company is looking to get back on its feet. It has increased its field force by 65 taking total headcount in that region to 305. Torrent plans to launch between 20-25 new products in Brazil by FY14. A total of five new launches are expected in FY13 which would augment the 34 products Torrent already has in the Brazilian market.
Other analysts too are positive that the company will get back into the game. Says Mehta of ICICI, "We believe ramp-up of sales in Brazil as the ANVISA strike is over and this would improve the Ebitda margin of the Brazil business. Increase in the market share of 2-3 key products, which were affected by the ANVISA strike, and new product launches, would drive growth."
Financials and valuations
Torrent has reported sales growth of 18 per cent compounded annually over the past three years. Earnings per share followed close at 15 per cent (CAGR). The Q2 numbers with the Brazilian strike is expected to be a one-off event and growth is expected to recover gradually. Torrent trades at a trailing PE of 21 times. Given the superior growth outlook in the US and improving sales in India, the company should stay in good stead. However, the key risks to watch out remain slowdown in domestic growth and longer than expected recovery time in Brazil.