I currently hold 30,500 shares of Rohit Ferro, a ferro alloy manufacturer, HQ in Kolkata. I got hooked to this stock when it jumped from Rs 50-odd to Rs 200 during 2008 but after the economic crisis that year it nosedived to just Rs 13. From 2009 onwards I started piling up the stock. In spite of cheap valuations, high promoter holding and future growth prospects such as starting up of captive power plant and linkage to Indonesian coal mine, this stock has been stagnant for a while. What is your opinion regarding the future prospects of Rohit Ferro?
– Vijayakumar S
Rohit Ferro is engaged in the business of manufacture and sales of ferro-alloys and iron and steel products. The company has shown a consistent growth in the revenue but the main concern is its bottomline. The company has many other financial concerns too. One is the negative cash from operations over the past 3 years. This is due to the piling up of the inventories and poor management of the receivables. The company has not been able to generate free cash flow in the last decade. The debts have been mounting with the debt-equity ratio soaring to 1.86.
On trailing twelve month basis, at Rs 1,940 crore, the company's revenue has grown 41 per cent year-on-year but surprisingly profits have come down by 29 per cent to just Rs 35 crore. The profit margins have reduced to just 1.77 per cent over the years on account of various expenses such as power and fuel, selling and distribution and also interest costs.
Another factor is Rohit Ferro's margin, profitability and debt equity which poor compared to its peers (See table).



Currently, the stock is trading at price multiple of 9.63 times the earnings which is 90 per cent premium to its 5-year median of 5.07. Even when it touched its all-time of Rs 180 in 2008, the price multiple was around 8. Hence, the stock is not a value stock at current levels.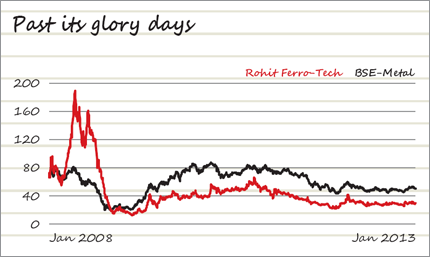 The only foreseeable gain in the stock is possible from the growth in earnings which too seems problematic currently as no immediate respite is visible for the company. The interest cost will continue to eat away a major chunk of company's earnings as RBI seems to be in no mood to go for softening the rates.