Amara Raja Batteries is the country's second-largest manufacturer of lead-acid batteries in the organised sector. It caters to the automotive (55 per cent of FY12 revenues) and industrial (45 per cent of FY12 revenues) verticals. Amara has a market share of 28 per cent in four-wheeler Original Equipment Manufacturer (OEM) market, 19 per cent in the four-wheeler replacement and 25 per cent in two-wheeler replacement markets. It also has a market share of 46 per cent and 32 per cent in telecom and UPS battery segments, respectively.
Why you should buy Amara Raja?
Robust demand: The automotive battery market is expected to grow at around 15 per cent annually over the next two years. Driving this growth would be demand for replacement batteries, new sales growing by 10-12 per cent and a shrinking unorganised sector that is finding it more difficult to compete with the expanding network of the organised players. According to Ashvin Shetty of Ambit Capital, revenue growth between FY13 and FY14 should be around 25 per cent and 18 per cent respectively.
Market share gains: Amara is expected to step-up its market share from current levels of 28 per cent to around 30 per cent by the end of 2013. The gain has a lot of do with market leader Exide floundering. Exide has been losing market share between FY10-FY11 on account of capacity constraints, though, has been on a corrective path since. Amara in the meantime has increased its capacity, dealer network and OEM presence.
Expanding its reach: Besides increasing the production capacity of its Chittoor (Andhra Pradesh) plant from 5.6 million units to 6 million units, the company is also planning to increase its OEM share in the two-wheeler segment by pumping in an investment of Rs 100 crore.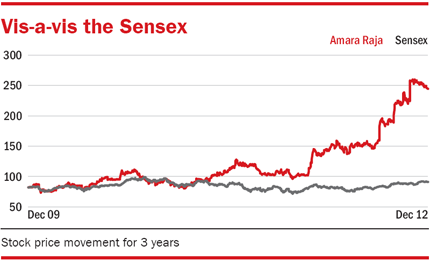 On a roll: Amara reported a robust 27.9 per cent (y-o-y, Q2FY13) growth in revenue driven by a robust double-digit growth in its automotive replacement segment. Automotive OEM and industrial battery segments though exhibited marginal growth on account of the current general weakness in the four-wheeler and two wheeler markets. Automobile sales fell by 8.3 per cent (y-o-y) in November. If this weakness continues, Amara and other battery manufacturers will suffer.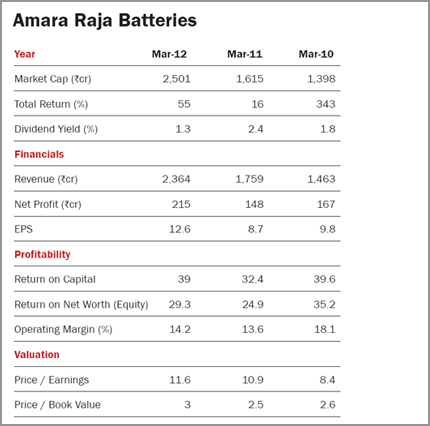 Margins on the rise: Amara reported a 73 basis points jump in operating margins on the back of lower lead prices. Better product mix too chipped in raising Ebitda margins to 16.4 per cent. With Amara taking a 4.5 per cent price increase from November 2012, margin improvement may continue in the next quarter as well.
Amara trades at 0.6 times its 3-year PEG ratio. Given that the company is tuning itself to do all the right things – expanding capacity and deepening its distribution network, expect it to keep on humming for some time.