It is a well known fact that the banking sector is the engine of any economy and many a times it is the change in fortunes of this sector that results in the market surge. This year, the Bank Nifty is up 52.58 per cent compared to the 27.15 per cent gain by Nifty in the same period. The best banking sector fund has posted 52.43 per cent returns, while the worst managed a modest 13.75 per cent. During the 2008-09 bear phase, Nifty lost 52 per cent and Bank Nifty lost 61 per cent, however, when the markets rallied from March 9, 2009 to June 23, 2010; Bank Nifty gained 129 per cent compared to the 75 per cent by Nifty.
The 12 banking sector funds collectively manage Rs 2,669 crore which is 1.5 per cent of the diversified equity fund universe. There are eight actively managed funds with the remaining tracking different banking indices. Reliance Banking is the oldest and the biggest scheme managing Rs 1,729 crore or 65 per cent of the corpus that goes into the banking funds. Further, among the passively managed funds, there is a fund that only tracks the CNX Banking index or the PSU Banking index. All these options provide investors several options within the banking space itself.
The actively managed funds invest in 19-25 stocks which includes a mix across capitalisation and ownership (PSU and private sector banks). However, the investments are more or less concentrated across the top-four banks - HDFC, ICICI, SBI and Axis. These four stocks account for about 75 per cent of the most actively managed funds. In the case of passively managed funds, the investment option is narrow with the PSU Banking index and the CNX Banking index, each comprising of 12 banking stocks.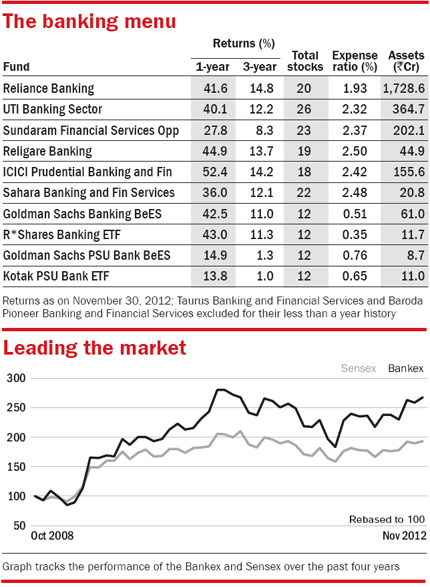 With such variety, investors can tailor their investment needs and accordingly invest in an actively or passively managed banking fund. For instance, index funds have less than 0.7 per cent expense ratio compared to the 1.93 to 2.50 per cent annually charged by actively managed schemes. This factor should not be the driving point when investing in these funds, as the diversification offered by actively managed schemes far outweigh the costs and is reflected in their returns as well. However, the case for investing in a banking fund should be weighed by comparing the overall portfolio, as most equity diversified funds have a significant allocation in the banking sector. But, if you have made up your mind to invest in the banking sector, look for a scheme in the actively managed funds for they score over passively managed funds.