When it comes to investing in the energy space, the first candidate that trumps out all the others is ONGC. The country's largest oil and gas exploration and production company accounts for around 80 per cent of India's oil, while the gas output services a third of our total national demand.
Being a public sector company, ONGC has historically suffered from the Government's ad hoc subsidy sharing formula. ONGC currently has the highest share in subsidy sharing. Though petrol deregulation has helped, further deregulation in LPG and diesel could ease things, which seems slightly difficult. In 2010, the Kirit Parikh Committee report advocated total decontrol of oil prices and recommended complete decontrol of oil prices for state run oil companies to cut losses. To recover all losses, diesel prices need to be increased by 24 per cent, LPG by 119 per cent (per cylinder) and kerosene by 240 per cent. In recent months, the Kelkar Committee Report recommended doing away with all subsidies in a phased manner.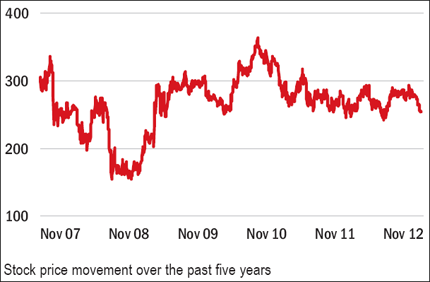 However, current losses on account of subsidy sharing may not be ONGC's biggest headache. Most of its fields are now mature, which could lead to lower production in the near future if new additions are not augmented. The FY13 production is expected to dip lower compared to FY12 production of 23.7 MMT. The company's newer fields are expected to come up this year but any significant contribution is expected only by FY14 or after because its Russian operations are also behind schedule. Perhaps the only frontrunner in ONGC's assets is its joint venture with Cairn India, where production is expected to shoot up fast. Currently at 175 kbopd, production is expected to be ramped up to around 300 kbopd in the next 2-3 years following regulatory approvals. But ONGC will need more to fuel growth. Company watchers say that FY13 volumes could dip before picking up in the following year. Likewise, inorganic moves like acquisitions could help push up volumes for ONGC in the future.
Growth Drivers
ONGC is ramping up its capacities. It invested Rs 13,000 crore in H1FY13, it has guided capex of Rs 33,700 of which around 40 per cent is expected to be spent on exploration and capital projects each while development drilling is expected to account for 10 per cent.
Then there is the possibility of a rate revision. ONGC sells the bulk of its domestic production to the Government at a price of $4.3/mmbtu. This was last revised in May 2010. With crude prices having moved up significantly from the $70-75/bbl levels in 2010, the company has approached the Government for a price revision like other players, especially RIL. Any new pricing formula, which is likely to be market linked pricing, will only boost ONGC's earnings.
ONGC is a long-term story. Investing into this company will entail locking yourself for the long-term. At a 5-year PEG of 0.85, valuations are not demanding. The triggers for the company will come from improved production either by improved domestic production or more likely through an international acquisition.