Investors rejoicing the changing fortunes of the stock markets are in for a rude shock, especially if they are considering to exit their equity mutual fund investments. AMCs such as ICICI Prudential, Axis and JP Morgan have been quick to introduce staggered exit loads depending on the number of days an investor stays invested in equity schemes from their stable. From an earlier scenario when there was no exit load on investments of more than a year, the new exit load introduced is as high as 3 per cent if one exits in less than six months. The increase has come into effect from October 15, 2012, and other AMCs are looking at introducing similar slabs.
This latest move by the AMCs comes on back of the mid-August changes introduced by Sebi. One of the moves was to credit the entire exit load to the fund scheme, with the AMCs allowed to charge an additional total expense ratio (TER) to extent of 20 bps, which was perceived to be against investor interest. However, the move is intended to encourage long-term holding of investments and reduce churning. This approach also aligns the interests of the AMCs and distributors with that of the investors and does not amount to any additional cost to the investors.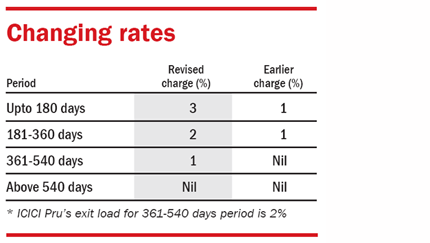 But for some investors it is a double whammy. Not only is their investment not faring well, they would need to pay an additional sum to exit poorly-faring funds, which will further hit the returns.
However, it is not that exit load is a new phenomenon. Since its inception, Quantum AMC has had a high exit load of 4 per cent for those who exit in a period of less than six months.