Investment objective
The fund will aim to generate optimal returns by investing in a portfolio of debt and money market instruments issued primarily by banks.
Scheme details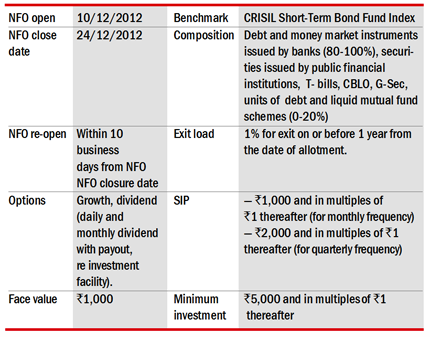 Fund manager
The fund will be managed by Nitish Sikand while Neelesh Dhamnaskar will work as a dedicated fund manager for foreign securities. Nitish has more than 12 years of experience in fixed income markets and product development. Prior to joining Religare AMC, he was working with ICICI Bank, JM Financial Asset Management Company and Citicorp Maruti Finance. Neelesh has around 7 years of experience in equity research. Previously, he has worked with ENAM Securities Direct, KR Choksey Shares and Securities and Rathi Securities.
Fund house
Religare Asset Management Company was set up in 2005. Its assets under management averaged over Rs 12,600 crore for the quarter ending September, 2012.
Category details
VR category: Debt: Short-Term (Funds whose average maturity over the past 12 months is between 1 and 4.5 years fall into this category) The category's average assets under management is Rs 1,167.23 crore with an average maturity of 2.26 years. There are 47 other funds in the category. The 1-year average return is 9.75 per cent and 3-year average return is 7.77 per cent.
Performance of top-10 funds in the category by AUM: