Investment objective
To provide regular income along with opportunities for capital appreciation through investments in a diversified basket of Central Government dated securities, State Government securities and treasury bills.
Scheme details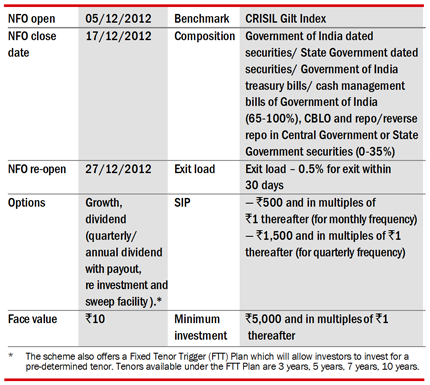 Fund manager
The fund is managed by Gautam Kaul. He is a Commerce graduate and an MBA. Kaul has over 11 years of experience in debt markets including 6 years in the mutual funds industry. Prior to working with IDBI AMC, he was working with Religare Mutual Fund and Sahara Mutual Fund. He manages six other funds in IDBI Asset Management Company.
Fund house
IDBI Mutual Fund, sponsored by IDBI Bank, is relatively a new entrant in the mutual fund industry. It was incorporated in January 2010. The fund house currently has five other debt funds, three equity funds and two gold funds.
Category details
VR Category: Debt-Gilt Medium Term and Long Term (This category includes funds which invest in gilt securities and can vary their average maturity as per their declared objectives)
The average assets under management (AUM) under this category is Rs 98.25 crore with the highest AUM of Rs 302.72 crore. Average maturity is 11.06 years with a 6-month average return of 4.11 per cent and 1-year average return of 10.01 per cent. There are 50 other funds in the category.