Investment Objective
The objective of this scheme is to generate capital appreciation by actively investing in a diversified portfolio of equity and equity related instruments, debt and money market instruments, and gold exchange traded funds of other mutual funds as well as its own fund (if and when it launches).
Scheme Details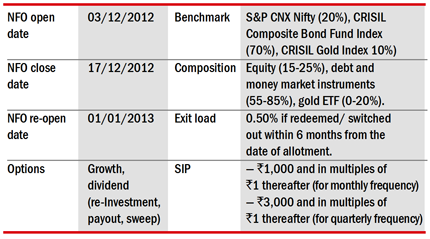 Fund Manager
The fund is co-managed by Ashish Ranawade (CIO) and Parijat Agrawal (Head-Fixed Income).
Ashish Ranawade has over 18 years of experience in investment management and has been with Union KBC AMC since July 2010. He was previously associated with UTI AMC, and ING Investment Management. Parijat Agrawal has over 16 years of experience in fund management. He has been associated with Union KBC AMC since September 2010. Previously, he worked with SBI Mutual Fund, State Bank of Mauritius Limited and Sun F&C Asset Management.
Fund House
Union KBC AMC is a relatively new entrant in the arena of asset management companies. It was set up in March 2011 as a joint venture between Union Bank India and KBC Asset Management NV.
Similar Schemes
Top-5 funds in the category- Hybrid: Others