These might not be the best of times for IT sector in India, but they are not the worst either for a chosen few. MindTree falls in the latter category; in fact, far from it. India's first venture-capitalist-funded IT company and one of the brightest stars on the IT horizon was established in 1999 in Bangalore and operates in two broad units – production engineering services (PES) and IT services.
Its presence is spread across the world which can be broadly divided in four parts: The Americas, Europe, Asia and rest of the world. The company earns more than two-thirds of its revenue from overseas market with Americas (57.9 per cent) and Europe (26.2 per cent) forming the top-2.
The shining glory for the company came last year when it provided application development, maintenance, and support services for the Government of India's Unique Identification (UID) project, Aadhar.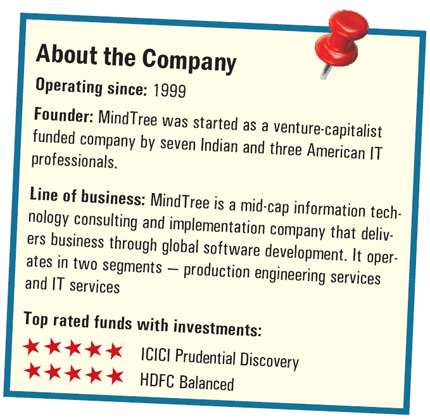 Strengths
MindTree has developed a comprehensive range of services that offer end-to-end IT services. With delivery centres in India and the US, it offers IT strategy consulting; application development and maintenance; data warehousing and business intelligence; package implementation; product architecture and design; engineering and infrastructure management; and host of other services to its customers.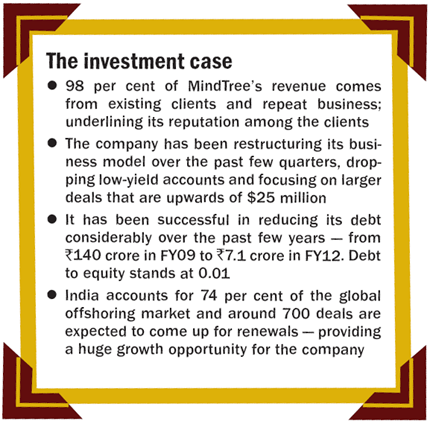 • 98 per cent of its revenue has come from repeat business and existing clients. It has now four customers in the $20 million-plus category compared to just one in the previous fiscal
• Its global delivery model, 'Oneshore', focuses on achieving balance of quality, cost savings and localisation. The customer-centric model enables the company to provide high standards of quality and service levels for customers wherever they are. It recently opened a development centre in US
• It derives revenues from services provided both offshore and onsite. Offshore services generate higher revenues per-capita at a lower gross margin than the same services performed in India
• In June 2011, former chairman Ashok Soota sold 5.75 per cent of his stake in MindTree to Global Technology Ventures. GTV, which has been associated with MindTree since 1999, now holds a 12.35 per cent stake, up from 6.6 per cent earlier.
Growth drivers
Normally in a downturn, mid-cap IT companies are more adversely-affected because customers tend to prefer the established players in the market. However, this has not been the case recently. The increase in deals is also being driven by first-time outsourcers who want to check the outsourcing model with small-sized deals and with new small-time vendors who can give them customised solutions. Mid-tier players also benefit from the 18-30 per cent differential between the prices they charge compared to those of top-tier players.



• This attitude among the clients can help MindTree to move up from its average deal size of $10 million and chase larger deals that are upwards of $25 million. From among a few such deals that are in the pipeline, the company expects to close at least a couple of them during the current fiscal. The management aims to rope in at least one $50-million deal over the next four to five quarters
• MindTree is doubling its system application and product (SAP) headcount and widening the segment portfolio to tap the growing client demand for enterprise resource planning (ERP) services. It is making significant investments in the high-margin SAP practice, targeting a 70 per cent growth in this segment over the next 12 months
• The company has been restructuring its PES business over the past few quarters which has yielded good results and led to dropping of seven low-yield accounts. The two sub $10 million orders in the PES segment should help in improving margins and growth in the future

Concerns
The exchange rate between the global currencies and the rupee volatality, uncertain economic conditions or restrictions on outsourcing in the US and Europe remains a cause of concern.


• It has outstanding hedges worth $122 million at an average strike price of Rs 50.31 for rest of the three quarters of FY13 while net monetary assets have been translated at the Q1FY13 closing rate of Rs 55.62. MindTree could report a huge forex loss of around Rs 60 crore over the next three quarters
• Diversification of business has not turned out well for the company. It ventured into making mobile handsets in 2009 by acquiring the India R&D centre of Kyocera Wireless. However, the company lost close to $3.5 million in the project. Valuations took a major hit and the company was criticised for its poor planning and judgement. Eventually, the company announced the closure of its mobile products business in October 2010
• It was expecting a revenue target of $1 billion by 2014 but revenues have remained at $250-350 million levels
• The company recently gave away annual wage hikes to its employees. While around 80 per cent of them got it in June 2012, rest will receive theirs in October. This is likely to have an impact on the margins in the coming quarter
Financials
MindTree has cash holdings and securities of Rs 370 crore that represent around 13 per cent of the total market capital. It has been successful in reducing its debt by a significant amount over the years – from Rs 140 crore in FY09 to Rs 7.1 crore in FY12. Debt to equity stands at 0.01 as on March 2012. Revenues have grown close to 26 per cent and net profit by 19.4 per cent over a five-year period. RoE has clocked a CAGR of 21 per cent.
In terms of revenue mix, the US segment saw a 1.8 per cent growth as compared to previous quarter while Europe led the growth at 4.5 per cent q-o-q for Q1FY13. Revenues from India declined 14.5 per cent mainly on account of currency devaluation. IT services that account for 65.6 per cent of the total revenue witnessed a 43 per cent y-o-y growth whereas PES segment that accounts for 34.4 per cent of total revenue grew by just 4.6 per cent.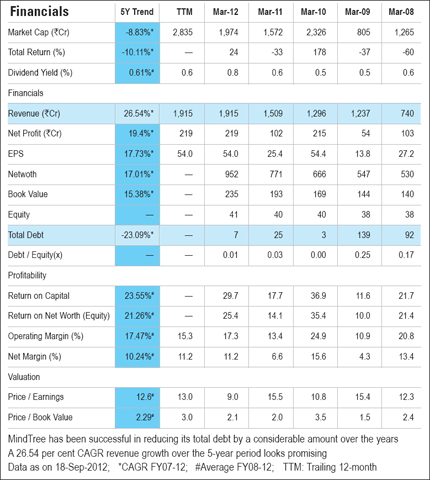 Valuations
At the current price of Rs 690, the stock trades at a PE of 12.98 times while the 5-year median PE stands at 13.02. Price to book value is at 2.97, a little higher than its 5-year average of 2.82. The five-year earnings growth of 17.73 translates into a PEG of 0.73. While global environment continues to be challenging and delays in decision-making expected, MindTree is not witnessing any budget cuts by its clients.
Although IT services segment is expected to lead growth, the company might post low single-digit growth in the PES segment due to the slow start to the year.
MindTree has initiated substantial number of projects over the past few quarters and looks set to continue to do so.