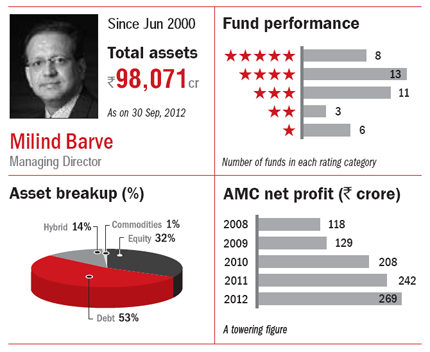 In 2000, housing major HDFC set up HDFC mutual fund and three years later it bought Zurich Mutual Fund. The acquisition helped it to expand its range of equity funds, which was lacking because it largely focused on debt funds. The rest, is history. The AMC has a stable and key leadership team managing the business and funds which has gone a long way in building its operations.
Consistently well-performing funds, including a few outstanding equity funds, and a credible Indian brand has helped the AMC gain leadership in the mutual fund space.
The fund house has built its assets through SIPs over the past five years. Going by the way the markets have been in the past five years, the AMC has done exceedingly well. The AMC has two of the biggest equity funds: HDFC Top 200 manages assets worth about Rs 11,591 crore and HDFC Equity manages about Rs 9,887 crore. The third-biggest fund relatively pales in front of these two with assets of just over Rs 5,000 crore. However, size is something that could go against this fund house. It could well become the winner's curse, given the lack of liquidity in the Indian equity market.