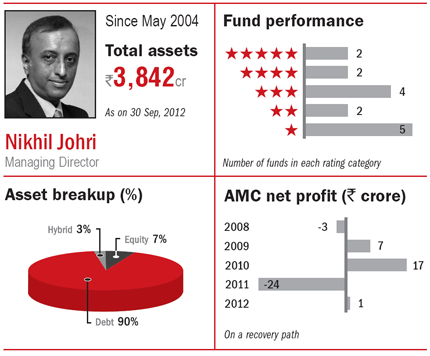 Till 2004, this AMC used to be known as ABN Amro Mutual fund. In 2007, a consortium, including Fortis Investments, bought into ABN Amro resulting in the AMC changing its name to Fortis Mutual Fund. To complicate matters further for this AMC, global financial realignments lead to Fortis being bought by BNP Paribas in 2009. BNP Paribas was already present in India through a joint venture with Sundaram Asset Management. It had to either sell Fortis Mutual fund's India operations or merge the same into itself. BNP Paribas exited the joint venture with Sundaram and the Fortis AMC was renamed BNP Paribas.
The impact of such changes, including the fund management team, has been multi-pronged, with the inability of the management to steer the operations. Despite several changes, the AMC has a fair mix of funds in its stable, though the tilt is towards debt schemes. On the performance front it has been a mixed bag with some badly faring funds along with some good ones.
With BNP Paribas now taking over the reins, it brings with itself a ray of hope, which should also lend stability to the fund offerings.