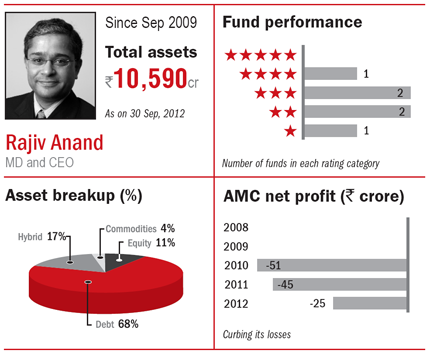 This fund house has the advantage of Axis Bank parentage. In a short span of 3 years the AMC has launched products across both debt and equity to offer a full range of funds for the need of both retail and institutional investors. The no-fanfare approach adopted by this AMC lies in its focus on building a performance track record for its fund offering.
In September 2012, Britain's largest asset management company, Schroders, acquired 25 per cent stake in this AMC, which will provide the necessary support, expertise and possibility of launching global funds.
The AMC has a strong leadership which will help in the growth and development of the business. At the moment, there is nothing spectacularly outstanding with this fund house, but it has also not got into anything adverse either. Considering the short history of this fund house, it has made a good start, with the necessary credentials and foreign tie-up to scale up from here. So far the key driver for distribution has been the parent bank's network, which will remain so for future growth and reach.