Goldman Sachs India Equity fund is an open-ended equity fund launched by Goldman Sachs Asset Management. This is the first open-ended equity diversified fund, which is not an ETF or an index fund, launched by Goldman since it took over Benchmark Asset Management in 2011.
Investment objective and strategy
The scheme seeks to generate long term capital growth from an actively-managed portfolio primarily of equity and equity-related securities. The fund manager will follow a strategy based on fundamental research driven by bottom up stock selection. The fund will invest upto 80-100% in equity and 0-20% in debt.
Similar funds
There are several similar funds in the industry and here are a few of them: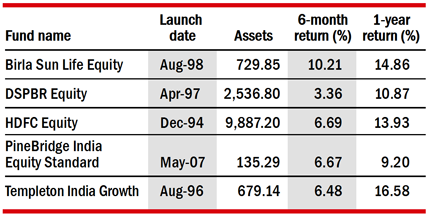 Fund Manager
Prashant Khemka and Aman Batra will be managing this fund. Mr. Khemka is a bachelor of engineering and holds an MBA degree from Owen Graduate School of Management. He is also a Chartered Financial Analyst and has an overall experience of 14 years. Mr. Khemka joined Goldman Sachs in the year 2000 in New York and shifted to the India branch in 2006.
Mr. Batra will be the fund manager for foreign Securities. He has a degree in bachelor of engineering as well and holds a Post Graduate Diploma in Management. Prior to joining Goldman Sachs in 2009, he worked at Kotak Securities for about 5 years. He has also had stints with Advantage Global Services and ICICI Bank.
Fund House
Benchmark Asset Management had been operating in India since 2001. It offered only ETF and index funds to its investors till now (except equity and derivatives fund). It was taken over by Goldman Sachs in 2011 and it currently manages assets worth Rs. 4,304 crores.
Basic Details
NFO Open: October 17th, 2012
NFO Close: October 31st, 2012
NFO Price: Rs.10/- Per Unit
Options: Growth and Dividend (with payout and reinvestment)
Minimum Application Amount: Rs.5000/-
Exit load: 1% if redeemed within 1 year of allotment and nil if redeemed on or after an year of allotment.
Benchmark: S&P CNX 500 Index
Fund Managers: Prashant Khemka and Aman Batra