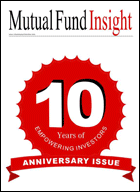 Ten years have gone by--a rather large chunk of anyone's working life. Our Special Anniversary issue is out and we have a lot of offerings in this issue. There are six big areas that will interest readers - a cover story on the recent reforms, conversations with industry veterans--UK Sinha, Prashant Jain and KN Sivasubramnium, a realty check on all the AMCs, an enlarged Fund Select section covering 62 fund schemes, a bigger Scorecard and a Special section on Ten Simple Rules for Investment Success by the legendary John C. Bogle.
There are some other features that are there in this issue, while we have done away with a few regular features like Fund Diary, Reader's Viewpoint and some columns. There is also a Special Subscription Offer.
Subscribe the October-November 2012 issue of Mutual Fund Insight now.