At the height of the technology boom during 1999-2000, a total of 13 tech funds were launched and did exceedingly well in line with the performance of the sector with BSE TECk and BSE IT being the prime benchmark indices. The sector did well owing to the rise in the outsourcing business as well as the rupee-dollar parity that favoured companies in this sector with overseas operations and dollar earnings. However, in recent years the same funds have been faring poorly owing to the sluggishness of the sector, known as risk-prone, and due to the fact that most funds have been overweight on one stock - Infosys.
The average exposure to Infosys by technology funds has been on an average 30 per cent since 2007, which accounts for Rs 143.64 crore at present or 40 per cent of the Rs 356 crore being managed by the five technology funds. The diversified equity funds also follow the technology sector and collectively have Rs 4,400 crore allocation to Infosys, or 5.21 per cent of the total corpus being managed by the diversified equity fund category.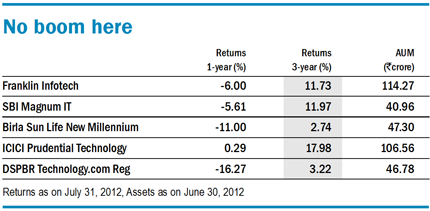 More than the performance, what investors need to realise is that given the allocation to technology sector by diversified funds, do they really need to be invested in technology sector funds and pay 2.5 per cent fund management fees? There are benefits of riding on a particular sector but given the performance of the tech sector, one would be better off investing in a diversified equity fund. These funds have adequate exposure to the technology sector anyway, with the Nifty alone accounting for 13.26 per cent (as on June 30, 2012) weightage to this sector.