The cup of woes of power sector is overflowing: low output from Coal India; falling gas production from KG-D6; execution delays; land acquisition hurdles; tough funding environment; and a worsening financial health of state SEBs. Amidst this turmoil there stands one power company whose IPO hit the market in 2009 at Rs 36 a piece but is now available at half the price. Trading below its book value at 0.79 and a P/E of 7.3, NHPC is one of the largest hydropower generators in the country. Away from the worries of fuel supply, NHPC, a Government of India enterprise, boasts of an installed capacity of 5.5 GW.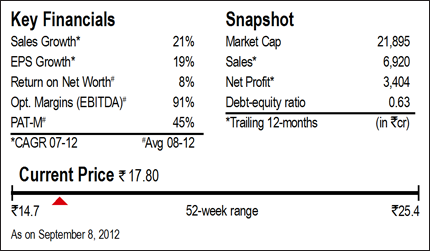 The company has a strong project pipeline with 4.5 GW of projects under construction, 6 GW in the clearance stage, and 4.2 GW of projects under survey. For FY13, the company has planned an addition of 1,200 MW capacity at an estimated cost of Rs 4,090 crore which will boost its EPS further. A low debt-equity ratio of 0.63 provides enough elbow room for leverage.
However, nobody gets spared when it comes to the Indian power sector. Distribution companies (discoms) owe over Rs 1,000 crore to NHPC. The poor financial health of discoms remains a major concern for the sector as many entities are unable to pay for purchase of electricity from power generators. Another setback could result in further delay in execution of new capacity owing to plethora of clearances ranging from environmental to land, and of course local agitation against such plants.