Investment objective and strategy
The fund aims to generate reasonable returns through active management of the portfolio. The fund has the flexibility to change both duration and the asset allocation mix of the portfolio with the changing interest rate scenario and economic environment.
Fund Manager
Ganti N Murthy is the head for Fixed Income at Peerless Mutual Fund and will be the fund manager for this scheme. He is a science graduate and has done his Masters in Financial Management.
He has over 18 years of experience in Fixed Income and Debt Instruments. He has worked as a senior fund manager at SBI Mutual fund and was managing Fixed Income assets worth over Rs 6,000 crore there. He has also worked as a fund manager in Cholamandalam Mutual Fund.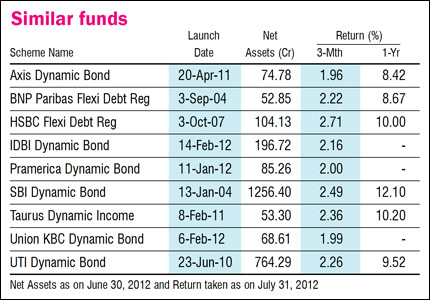 Fund House
Headquartered in Kolkata, Peerless Mutual Fund has been operating since February 2010 and has managed to build a portfolio of over Rs 4,000 crore.
Basic Details
NFO Open: August 16th, 2012
NFO Close: August 17th, 2012
NFO Price: Rs.10/- Per Unit
Options: Growth, Dividend Monthly and Dividend Quarterly (both dividend options have payout and reinvestment facility)
Minimum Application Amount: Rs 1,000
Exit load: 0.50% if redeemed within 15 days of allotment
Benchmark: Crisil Composite Bond Fund Index
Fund Managers: Ganti N Murthy