Bet on dark horses but keep a keen eye on crowd favourites. This is the mantra Mrinal Singh follows in this choppy state of markets. He tells Vivek Malik why the long-term view on the IT sector still holds promise Indian IT industry is going through a tough phase. The earnings are down and the future too, doesn't look bright.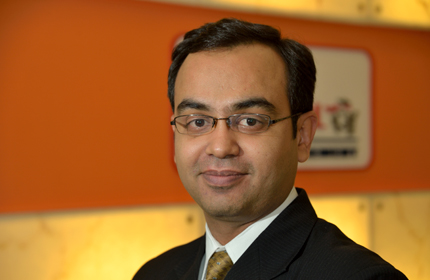 What do you think ails the industry?
There is a size issue that has come into the industry particularly for the large-cap companies. In terms of growth rate, big companies, particularly the big five, would have subdued growth numbers going forward and margins would also be under pressure given muted demand. Also, with it being the election year in the US, which is a big market for Indian IT companies, there would be a lot of rhetoric related to outsourcing which will impact the new businesses. However, after these six months it will all pass by and will give way to better clarity on demand. But, meanwhile, the mid-cap IT companies will continue to do well. And by doing well I mean the growth rates they will display or deliver on the revenue side. Selective mid-caps have gone niche in India and they will continue to have good growth rate from the markets they cater to and will carry their forward march. Our assessment is that large-caps will have growth issues in near-term while select mid-caps will continue to do well in the near-term. The medium-term outlook as of now is hazy due to the changing of competitive landscape. In next 2-3 years we may have companies posting good growth numbers but margins would be impacted to some extent.
Talking about the growth avenues, the KPO space is doing very well, particularly the analytical segments with select companies having made their presence felt in this space. But that is still very nascent. A few companies have also made inroads into the European mainland, particularly Germany, in niche spaces which was an unchartered territory till now. Also, companies which are into reconciliation of accounts are doing well. We are also seeing companies going into engineering-design side whose clients are manufacturing companies.
What also matters is the sectors these companies are exposed to when it comes to growth numbers. Companies that are exposed to aeronautics space are doing well while those exposed to the auto sector seem to be having muted demand as of now. The infrastructure management space is fetching good numbers, though the margins are less. Segments which are under pressure are application development and maintenance: they are currently supplying much more than the demand.
Are growth numbers of big IT companies bottoming out? In the latest quarterly results, one of the leading IT companies delivered 3 per cent growth q-o-q, till 2 years ago the big companies used to deliver growth in the range of 20-25 per cent which has now come down 12-15 per cent. So, there has been a slowdown in growth, which could however be short-term/temporary in nature. We still don't know whether it is the bottom or the new secular growth rate trend. But this is definitely on the lower side of the long-term average.
Are Indian companies losing out due to premium pricing?
See, pricing and volume are both functions of demand and supply deficit. As long as there is a demand for your services at the said price then all is well. But the significant business for the big companies is application development and maintenance (ADM) part, which used to be almost 40 per cent of their revenue till recently and is witnessing lack of demand now; hence the resultant pressure. So, there is a part of their portfolio which is witnessing pricing pressure. There are companies which are offering better price points, exciting freebies and liberal contracts that is putting pressure on the demand itself while there is no dearth of supply to fulfill that demand.
The rising dollar was initially seen benefiting the Indian IT but that has not translated into higher earnings. What is your opinion about it?
See, the way accounting is done the benefit of currency comes on the revenue line first. Below the Ebitda line, since you are hedged, your other income and losses come into the picture. You have to understand that IT companies are hedged at a particular rate. Now, even if rupee comes to the level of 45, companies will still be gaining from the new normal of around 55 which is due to the fact that hedging rate has gone up. IT companies protect their businesses at a particular rate. So we can expect to see the benefit of this rising dollar from the next quarter in most companies. Also, in the quarter just gone by, we saw gains in the companies which had more rupee denominated cost and dollar revenue. So, more the proportion of rupee denominated cost better it is for the margins.
Of late, Indian IT has been branded as being low-tech. Do you think the time has come for the industry to spread its wings to newer verticals?
There has clearly been a lack of innovation in the Indian IT space. It would be wrong to state that the sector is low-tech as they have delivered effectively on their required role. The lag has however been on incremental investing in the future technology. So, unless you invest in futuristic technology your futuristic bets might go wrong.
What do you think will lead to a revival in the investor confidence?
A demand upswing can surely help revive the investor confidence significantly. There are a lot of new regulations coming up in the US BFS space, leading to lack of clarity and uncertainty. Once these regulations are in place we will have much more clarity on how the demand will shape up. BFS is very big segment for Indian IT players and once the regulatory side of it is settled, there can be a new set of spending.
Are there any alternatives to the BFS?
Pharmaceuticals is very big in US and a lot of outsourcing is done in this space. Telecom is another clear contender. After the advent of smart phones a lot of data is flowing into these phones. A smart phone user has five-times more data than a non-smart phone user. A lot of telecom companies in the US will have a high capex in coming years to meet this demand and we will see that flowing towards Indian companies.
As a fund manager, how have you altered your strategy of late?
Our portfolio is open to public and for all to see. We are currently bent more towards the mid-cap space. This segment has delivered superior risk-adjusted returns. A revival of demand will have a positive impact on the overall sector, particularly the large-caps. We currently have bottom up strategy for our technology fund and it has done quite well. We'll continue to be invested in our mid-cap selected space and also nimble on the large-cap space.
Is this phase of the Indian IT cyclical or will it will become a pattern for some time to come?
The long-term growth levels could be a little better than what is being talked about now. A demand upswing can turn the tide. While the long-term growth trajectory is still positive, the current year is expected to continue to witness a low growth rate.
Are the days of 20-25 times valuation over now?
Yes, I think so. The days of 20-25 times valuation seem to be over.
So, what should be the ideal valuation now?
For a debt-free business, with more than 30 per cent return on equity, growing at 10-12 per cent five year trajectory, the ideal P/E would be 13-15. If they better any of these parameters, say the growth is at 15 per cent, then P/E too would rise. So, a P/E of 12-13 would be on the bottom side while the ideal would be 13-15.
Is this your expectation too?
We are long-term investors and if it proves to be a cyclical downturn then we would rather be invested than worry about short-term blips. The problem is that the clarity on medium-term demand is not yet there.
Visa processing charges have been hiked in the US and also visa rejections have gone up there. How big is the threat of visa restrictions to the topline growth?
Apart from the usual rhetoric against outsourcing there are legal proceedings in the United States now. And this is big because visa issues can drag for a long time. But as we have seen from the last 3-4 elections, economics prevails. There is a lot of economic sense in getting the work done by Indian companies. Also, Indian IT companies should also open delivery centers in the United States to address the concerns there, which is already being done by some of these companies.
Do all these issues have a bearing on the stock prices of the IT companies?
Yes, while earnings are a fact, legal issues affect the P/E of a company. If a company is not able to handle the legal issues well, its P/E would take a beating. It is a clear headwind on the valuations. For instance visas are important for Indian IT companies to get so that people can go there and understand the client business. So if you don't get the visa then how do execute what is being asked for? There is a natural limitation in sitting here and trying to understand what is being demanded. And this is a big problem for the IT companies.