The buzzword in tinsel town these days is the Rs 100 crore club. These are films that have grossed collections of over Rs 100 crore within weeks of their release. The same, cannot be said of the two sector funds focusing on media and entertainment. Both the funds; Reliance Media & Entertainment (Reliance M&E) and Sundaram Entertainment Opportunities - Retail (Sundaram EOR) have been poor grossers with both posting negative returns over the past 3 months of 5.75 per cent and 7.76 per cent, respectively.
The media and entertainment sector is narrowly represented and accounts for less than 1 per cent of the BSE 500 market capitalisation with less than 35 stocks. The narrow investing focus leaves very little room for fund managers managing these funds, which is further accentuated by the low trading volumes in several stocks within the sector. It is for this reason that we do not recommend investing in sector funds for all.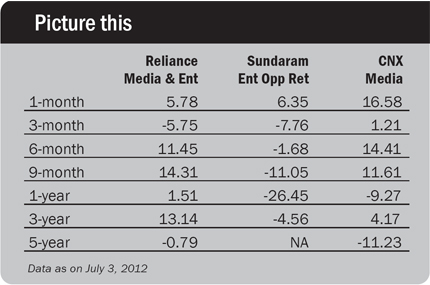 Not only investments in these funds are risky, these are also meant for seasoned investors who are able to not just spot the opportunity in the sector, but also timely ride it. At best, investments in such funds should be to supplement overall portfolio returns and reviewed regularly.
Although both these funds have done better than their benchmark the CNX Media index, made of 15 stocks, the long-term need to track and monitor the performance of these funds defeats the basic tenets of investing in a mutual fund scheme. Over the past one year, Reliance M&E has earned 1.51 per cent whereas Sundaram EOR has lost 26.45 per cent compared with 9.27 per cent lost by the CNX Media index. In contrast, the broad diversified large-cap fund category gave a negative return of 5.68 per cent over the past one year and the Nifty lost 6.42 per cent for the same period.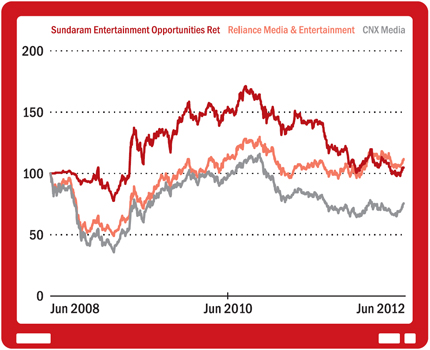 The poor faring of these funds notwithstanding, the assets managed by these two funds have also been depleting constantly. There is no entertainment left anymore for investors invested in these funds.