What are the future prospects of Havells.
- Anamika
Havells India is one of the largest electrical and power distribution equipment manufacturers in India. With a strong network of about 5,600 dealers and 100,000 retailers, the company's India operations contribute to about 50 per cent of its total revenue. In 2007, the company expanded its global operations through the acquisition of lighting business of Frankfurt based company Sylvania.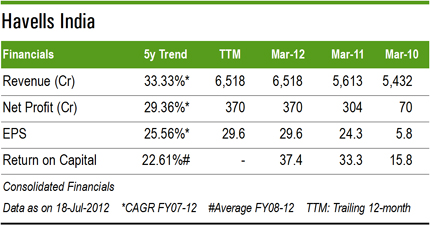 Over the past 10 years, Havells has successfully transformed itself from a switchgear manufacturing company to a company manufacturing a basket of consumer electrical products. The company has undergone three major transformations to evolve from being a B2B player to a B2C player.
Although Havells enjoys considerable pricing power on account of its brand equity, its margin can be adversely affected in case the company fails to pass on the price hike due to sharp increase in raw material prices. Further, its cable and wires business is exposed to volatile commodity prices.
The stock has appreciated around 86 per cent in the past two years and has outperformed the Sensex by around 82 per cent over this period. This outperformance is largely driven by turnaround in Sylvania and better margins in the domestic business. The company's impeccable performance track record over the past 20 years gives confidence that it will be able to consistently expand its horizons.