When the RBI retained the existing interest rates in its mid-quarter policy review in June, the reactions varied across segments. The markets did not react favourably, corporate India was unhappy as were those serving home loans. However, investors looking for high guaranteed interests on deposits were glad, as were mutual funds launching FMPs. Despite the industry expectations, the RBI has made it clear after the April rate cut, there is no room for further cuts. The reason for not cutting rates is attributed to inflationary pressures.
Too much money chasing too few goods is a standard explanation for the cause of inflation, which economists refer to as demand-pull theory. Inflation is the natural by product of a robust, growing economy. No inflation, is a much worse economic indicator, which we do not face thankfully. Typically in a healthy economy, wages rise at the same rate as prices, however, that has not been the case, because of the over cautious moves of corporate India which is cutting both direct and indirect costs.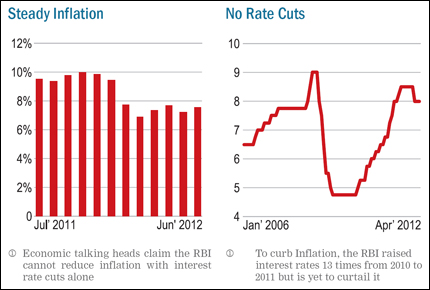 The impact of high interest rates is born by the drivers of the economy. High interest rates coupled with a slowing economy has dented debt-laden corporate balance sheets and bottom line. However, the RBI is not yielding to pressures to cut interest rates in an already high inflation environment. Higher interest rates discourage borrowing and encourage saving and tend to slow the economy, it is also influenced by policymakers to curb inflation. After all, monetary policy aims to influence the overall level of monetary demand in the economy so that it grows broadly in line with the economy's ability to produce goods and services. From time to time, the RBI does intervene to control the economy with changes in interest rates. For those who recollect, in 2008 after the Lehman Brother's crisis, the RBI had intervened to cut the repo rate from 9 per cent to 8 per cent in October 2008 and then delivered a rate cut every month till January 2009 and further cuts in March and April. But since February 2010, in order to curb rising inflation, the RBI raised key rates 13 times till December 2011, but it did not manage to control inflation as much as it would have wanted. A lot of the factors that went against the RBI were to do with falling rupee and a rising crude price. Corporate India at its end has been advocating lowering of rates because higher borrowing cost is impacting their margins.
In theory, curbing inflation by controlling demand looks easy, but in reality India's supply side bottlenecks have played a big spoiler. Further, service and excise taxes have been raised along with freight charges which has pushed food prices. Add up the dollar rupee tussle, delayed monsoon and El Nino for a complete picture on how much more things can get worse. As long as inflation remains sticky, RBI cannot afford to cut rates and using monetary policy to tackle food prices does not seem to be working. Going by the political will, it does look like interest rates could remain high for a long time.