The Nifty is attracting great FII interest. But the pull is in Singapore and not India. FIIs have shifted their trading positions to Singapore, where derivatives of Nifty are listed. In May, the SGX Nifty open interest was worth over Rs 16,200 crore while that on the NSE stood at over Rs 9,250 crore. As far as three-month contracts go, the Nifty futures OI on the NSE is over Rs 12,750 crore. Nifty is preferred not just for the convenience of trading in them in Singapore, but also the fact that the Nifty companies are actually faring well.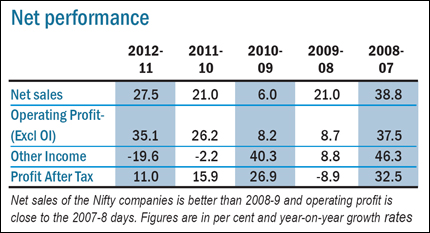 Analysing the past five years data on 48 Nifty companies indicate positive performance. We dropped two companies owing to lack of contiguous data. There is growth in volumes which is also reflected in rising operating profits. But, the story is yet to turn rosy because the net profit margins are yet to pick. However, the cash and cash equivalent that Nifty companies are piling points at good health. The Rs 2,82,758 crore cash chest of the Nifty companies is almost thrice the 2007 levels. Leading the cash pile are companies like RIL and Infosys, which are not diversifying or expanding their business due to economic and business uncertainty. Shareholders are raising their voice and asking companies to pay out dividends than sit on piles of cash which is going unused.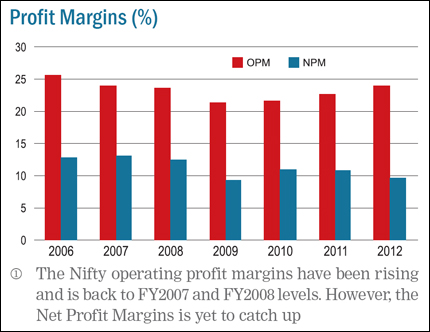 Although Indian corporates have not got into any big acquisitions and take over, corporate India is shedding its debt with several companies restructuring debt and exiting non core businesses and focusing on their core. The period of downturn has also been used by both the regulator and companies to address corporate governance issues. Although, there has been no significant wealth creation by the Nifty companies over the past four years with return on equity falling to 17 per cent in FY12 compared to 24.4 per cent in FY08. The silver lining is that RoE levels are very close to those in FY09.