For economists and policy watchers, macroeconomic indicators, which are budgeted and estimated before the actual numbers emerge, give ample room to debate and paint gory pictures. With only limited policy room, growth in India is lower, mainly due to adverse spillovers from the Eurozone area via trade and financial channels that worsen the effects of existing weaknesses.
However, the story is not always without exaggeration. In April this year, the Reserve Bank of India governor D Subbarao said that rising fiscal deficit and short-term debt levels are 'quite disturbing' but the nation is not facing a repeat of a 1991 balance of payment crisis. While the 1991 crisis was triggered by high oil prices and gold imports, almost drying foreign reserves and currency crash; large fiscal deficit and current account deficit are lead indicators of stress building up in the system again.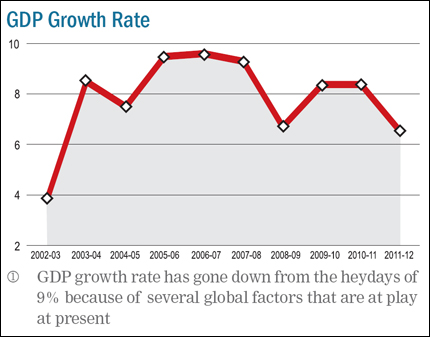 Although, the fall in GDP growth is a matter of importance, what has played against India is the negative sentiments around the government and its working. There are serious concerns about macroeconomic management, policy environment and governance. India's current account deficit is rising largely due to high oil exports which went up by 40 per cent to touch $140 billion in FY12.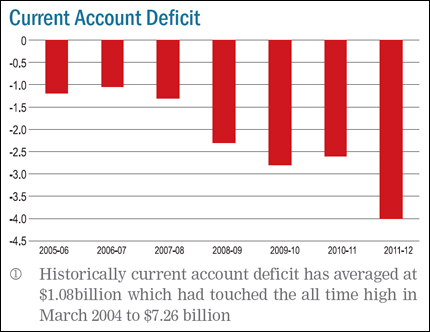 While fiscal deficit is not entirely structural in nature, it touched 5.76 per cent of GDP on account of Rs 208,503 crore doled out in FY12 to oil, food and fertilizer subsidy. Moreover, a third of the government's expenditure is spent on non-productive expenditures like interest payments and subsidies. Some of these welfare measures are only likely to go when the Food Security Bill and the Right to Education Bill get implemented in full.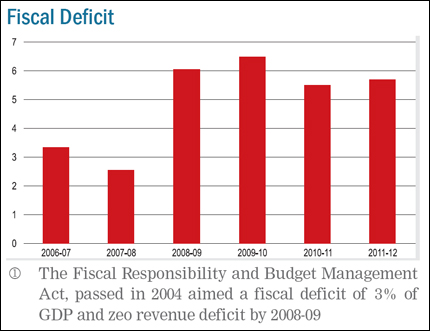 The combined effect of these three factors has a cascading effect on tax collection, interest rates, capital expenditure and inflation. Moreover, the Indian government has faced a series of high-scale corruption and scams that has resulted in what many refer to as policy paralysis. In the wake of such widespread fear and chaos, major policy decision and bills are pending in the Parliament such as the Direct Tax Code, the Goods and Service Tax, Mining Bill, Pension Bill and several others that can have an impact on the economy such as FDI in retail and increasing the FDI in the insurance sector. Moreover, the government's disinvestment plans have taken a backseat and losing the necessary push that can revive the economy through divesting its stake in several profit making PSUs.
India's economic growth during 2011-12 slipped to nine-year low of 6.5 per cent, down from 8.4 per cent in the preceding two years. Though the Government expects the GDP to expand by 7.6% in the current fiscal, it does not look achievable in the current scenario going by lack of a clear roadmap to address these issues.