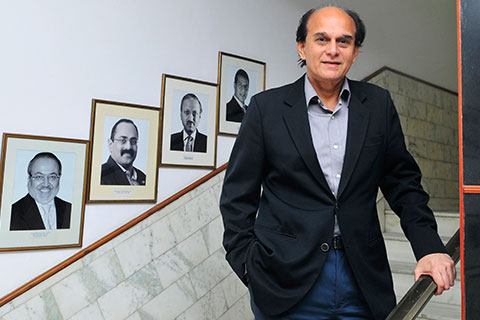 About two years ago, Mariwala had stepped down from the day-to-day operations of the company he founded 25 years ago in 1990. His children have their own independent careers and are not part of the Marico board or management. Son Rishabh, 35-years-old, is running his own venture Soap Opera N More and is also managing the family office along with Mariwala which looks at investments, private equity and start-ups. Whereas daughter Rajvi, 36-years-old, is a canine behaviourist. The new venture may change that for his son. However it's still early to say that with surety.
Mariwala was a sprightly 20-year-old just out of Mumbai's Sydenham College when he joined Bombay Oil Industries Ltd, his family's commodities trading business. Over the years, he moved out of the family fold and built his own company, Marico Ltd, which owns Parachute and Saffola, among India's largest coconut and edible oil brands. Marico is known for pioneering the shift from tin to plastic packaging for oil and for aggressively taking on multinationals such as Hindustan Lever Ltd (now Hindustan Unilever Ltd or HUL). The company eventually acquired HUL's Nihar brand in 2005. Mariwala, now 65, has also managed to transform his entrepreneurial venture into a professionally managed, multi-product and multi-geography company. And, in a stand that is unusual in business families, Mariwala has encouraged his children to follow their own dreams. Edited excerpts from an interview:
What were the challenges you faced in the move from a commodities to a brands business?
Initially, when I started off, the big issue was how to attract talent. In FMCG (fast moving consumer goods), unless you have good talent, you cannot run a business. The business happens due to the creation of a brand and a distribution network, for which you don't require too much capital but you require good talent. So, in those days, being part of a family-managed company which had various businesses and was located out of the heart of the commodity market at Masjid Bundar, there were a lot of hurdles. Our name was not known, the business was family-owned and managed, and there were a lot of family members-my father and uncles. The office location was not conducive to attracting talent. A lot of times, people who came once to the office, never came again. So, we had to work on these issues.
How did the diversification from oil into personal care happen?
It's been a gradual journey. But a well- thought-of journey. We did it in steps. We realized we needed to have more value-added brands and products. So, the journey has gone from basic products to more value-added products, like deodorants, hair creams, hair gels, (and) skincare through Kaya. As we grew, we also expanded our distribution to rural markets in India and then to international markets where there was usage of coconut oil. So first, we entered the Middle East, then Nepal and Bangladesh. Then we looked for acquisitions in East Asia, in markets like Vietnam as we could not go to these markets with coconut oil. So, that has made us far different from what we were.
However, Parachute and Saffola remain central to the overall company...
I think over a period of time, it (dependence on these brands) has reduced. When we started Marico in 1990, the two brands were 100% of our revenues. Today, they are about 40-45%. At the same time, the brands have been strong, and have been able to maintain their market share and profitability. If the brands were not strong, I would have been worried. So, at one level, we have shown that we can expand and go into more value-added (products). At the same time, we've maintained these strong brands and retained the profit.
Do you see your dependency on Saffola and Parachute reducing further?
We should continue exploring more and more value-added products so that journey will also continue. So, over a period of time, the two brands will come down to 30%.
How has the consumer changed from the 1990s to now?
The consumer has evolved in every category. So, if you take the bathing category, initially people used soaps. As the economy improved and people became richer, people used different products for each part of the body-face wash for face, handwash for hands, soap and body wash. There is segmentation that occurs and more value addition. Likewise, in hair oils, the trend is for more value addition. You can divide it in pre-wash and post-wash. Then, you can go into modern formats for grooming, so people just don't want nourishment but creams and hair gels. Then there are specific issues for hair like hair untangling. Now you see more and more products for hair growth-products to treat hair and hair softening. Also, as the economy grows, there will be multiple brands used within a family. Some youngster will be buying hair serum, some young guy will buy hair gel or hair cream to party at night. Older people will buy something for hair nourishment.
Is the new consumer still coming to Marico through Parachute primarily?
Not necessarily, no. We want to be present in all the options, because consumer taste will keep changing and we want to be market leaders in pre- and post-wash products. So, if we have all the offerings, or pro-actively if we can launch them, then any shifts in consumer habits we can catch and have that consumer coming to us. There are a whole lot of consumers, especially in the north, that are using Amla oil and perfumed oils. Their usage is completely different.
If you looked at the next 10 years-will the focus still be hair?
We believe that we want to be market leaders in whatever we do. Then our business is far more protected, we are not vulnerable to commodities and competition. So, wherever we find the opportunities where we have the right to win. So today, it has moved from hair oil to pre- and post-hair wash. It can move to something else. We are moving towards skincare with Parachute and hair fall solutions and also into male grooming. We acquired a company in Vietnam that is in male shampoos.
What is happening with Kaya?
Kaya began 12-13 years ago. It now has over Rs400 crore in turnover with 125 clinics in India and overseas. Majority are in India and 20 outside. It is a growing business. We have pioneered the business, we are market leaders. Our aim is to launch newer and newer services.
But it remains a tough business to crack. What are the challenges?
It is a complex business because it is a combination of three different businesses-retail, hospitality, (and) medical business. These three businesses combined under one Kaya company make it far more complex. It is a tough business to manage. We have been through a learning curve and are still learning.
Why is scalability such an issue?
In our case, we have had our own internal issues. Once we fix those, we will be able to scale it up. Managing a retail services company is very different from a consumer products company. That is why from day one, we have had it as a separate entity.
How will you scale Kaya?
Kaya's growth will come from the expansion of outlets. Second, we have Kaya Products which we have prototyped in Bengaluru with kiosks and shop-in-shops. We will expand the products business. We have also gone into hair services like for hair fall, scalp issues and others.
Do you see your children playing a role in the company?
My son is starting his own business. He is also managing the family office. I am involved in my son's business. I don't mentor him on a day-to-day basis. I am there at the review meetings. Rajvi is on her own, she is a canine behaviourist, she is doing very well.
In arrangement with HT Syndication | MINT