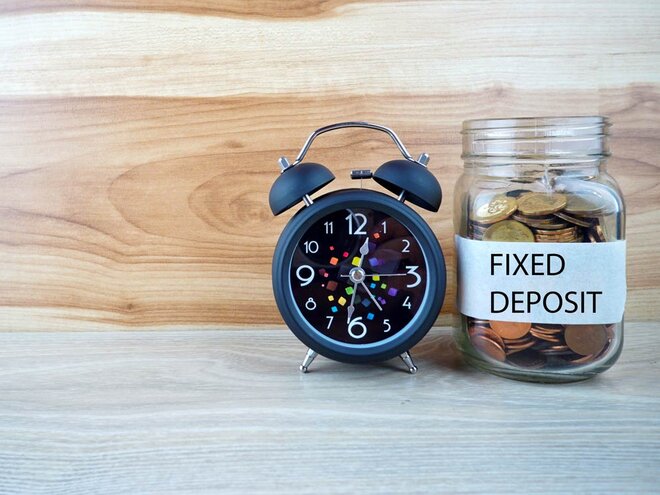 A bank fixed deposit is also known as a term deposit, and earns better interest compared to a savings bank account. A sum of money is placed with the bank for a specified time period at a fixed interest rate. Risk-averse investors tend to prefer these deposits and find the guaranteed fixed returns extremely reassuring. While interest rates may vary from bank to bank, tax-saving fixed deposits have a fixed tenure of 5 years.
Capital & Inflation Protection
The capital in a fixed deposit is fully protected up to rupees five lakh by the Deposit Insurance and Credit Guarantee Scheme of India. The deposit is however not inflation protected, which means that whenever inflation is above the deposit interest rate, the deposit earns no real returns. However, when the interest rate is higher than the inflation rate, it does manage a positive real rate of return.
Guarantees
The interest rate is fixed and guaranteed for the duration of the deposit at the commencement of the deposit.
Liquidity
Tax-saving fixed deposits have a lock-in period of 5 years. Premature withdrawal or loan against deposit is not allowed.
Tax Implications
A tax-saving deposit with a maturity period of 5 years in a scheduled bank is eligible for tax deduction under Section 80C. However, the interest earned is considered as income from other sources when computing income tax. Effective from April 1, 2019, tax is deducted at source on the interest income above Rs 40,000 (Rs 50,000 for senior citizens) at a rate of 10 per cent. The rate of TDS has been reduced by 25 per cent up till March 31, 2021 due to COVID.
Where to Open a Tax-Saving Fixed Deposit
You can open a deposit at any nationalised, private sector or foreign bank.
How to Open a Tax-Saving Fixed Deposit
You can issue a cheque to the bank through your existing savings bank account to start a deposit. A deposit receipt or certificate is issued with deposit details
Your existing bank account counts as being KYC compliant if you open the FD at the same bank.
You may also use internet or mobile banking to open a tax-saving deposit with your existing bank.
Exit Option
Early closure of a tax-saving deposit is not permitted.
Features at a Glance
Eligibility: You need to be a Resident Indian.
Entry age: You need to be over 18 years old; minors can open a deposit with the natural guardian operating it.
Minimum Investment: Rs 1,000
Interest: Interest rates on tax-saving bank fixed deposits are regularly revised and vary from bank to bank. However, once you invest in a fixed deposit, rate for that deposit would remain constant. Currently, the rate of interest on a 5-year tax-saving deposit given by SBI is 5.4 per cent.
Tenure: 5 years
Account holding categories
Individual
Joint
Hindu Undivided Families (HUF)
Minor through the guardian
Nomination Facility: Available