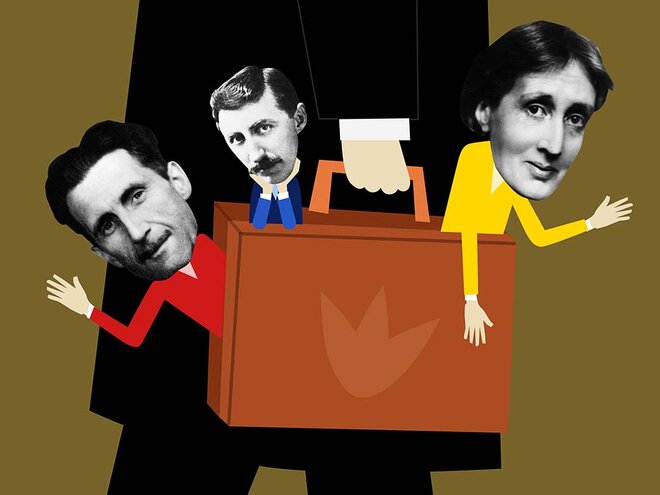 Some people collect coins; others go in for books or toys or if they have a lot of money, vintage cars. I collect, or used to collect, authors, a much more interesting pastime than collecting books. I used to visit places where they were born, the houses where they wrote the books and, of course, where they died. It is much more fun than just reading their books, which, of course, I did.
Until I met George Orwell in London immediately after the last war, I had no interest in authors. When I first met Orwell in a Chinese restaurant near Piccadilly, he had just published Animal Farm, a slim volume of less than a hundred pages that was more a parable than a novel and it was about pigs and goats, not lions and tigers. I still remember where I bought it - in a bookstall just outside an underground station in South London. I still have the copy.
The book made Orwell famous, but it was another book, Nineteen Eighty-Four, which really made him. He wrote the novel-typed it himself on a second-hand typewriter - as he lay dying of tuberculosis on an island off the Scottish Coast. Five years after his death in a hospital in London, I visited the island after almost a day's journey from London. His sister lived at the time and looked after him as he typed the book.
Orwell had a strong Indian connection - he was born in India, in a small place called Motihari in Bihar, where his father was in government service. He was sent to England when very young and never visited India again. He liked Indian food and was often seen tucking into rice and curry in Indian restaurants around Piccadilly. In fact, it was in a restaurant that I was first introduced to him by Krishna Menon whom he knew very well.
The second author I 'collected' was E.M. Foster, also a novelist, but of a different kind. Foster, too, had an Indian connection - he wrote a famous novel titled 'A passage to India', which was about the clash between two cultures, Western and Indian and as the title indicates, had India as a background. Foster had lived in India too, as a tutor to a maharaja in what was then a small state in Maharashtra. Foster spent a year there and wrote about it.
I first met Foster in Cambridge where he lived in a college hostel as a fellow. I had gone to see a friend who was a student in the same college and Foster was there. He spoke very little but we exchanged phone numbers. He said he would call me on his next visit to London and he did. But unlike Orwell, he was almost a hermit and did not have much to say about himself. But he did show me around his college and we lunched together in a small restaurant with potato salad and banana fritters, which was quite a change from the usual roast beef.
The third foreign author on my list was Virginia Woolf, though I never met her as she had died before I arrived in England. Virginia belonged to a group called 'Bloomsbury', a clutch of writers and artists living in that area of London near the university. I was wondering about Bloomsbury one day looking for 'digs' (accommodation) when I saw a blue plaque outside a run-down building with her name on it.
It turned out that Virginia was not only a famous novelist but, like Orwell, had a strong India connection. She was related to William Makepeace Thackeray, a novelist who had lived and died in Calcutta and also to a high official called Stephen who was the assistant secretary of state for India for a number of years. The Stephens and the Thackerays were old India hands, as the saying goes and Virginia was a link between the two.
Virginia actually committed suicide during the war - she was a neurotic given to hallucinations - and I once visited the place where she is supposed to have walked into the river and was drowned. Her husband published her diary after her death, which, surprisingly, I found in a second-hand bookshop in, of all places, San Francisco.
I have lots of Indian authors in my little collection but about them, may be later.