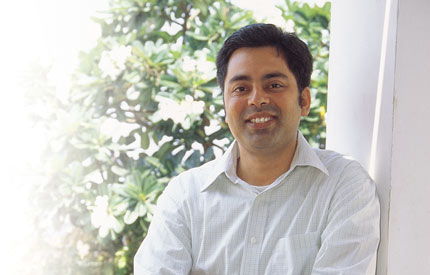 Why are infrastructure stocks so badly hit?
Over-ownership in this sector, mainly in terms of institutional ownership. The growth rate of earnings over the last four years has been higher than the broad market. So these stocks attracted a fair share of investors in this bull run. When there is nervousness in the market, investors offload stocks in which they are overweight or in which they have already made a substantial gain. Consequently, infrastructure stocks were badly hit.
Has the fiscal deficit hindered the government spending on infrastructure?
Partly, yes. It has hit interest rates which cannot remain low during periods of high fiscal deficit. Once interest rates go up, projects do not become viable. Around 80 per cent of the costs of such projects are financed by debt. So a project attractive when interest rates are around 8 per cent ceases to be so when they touch, say, 11 per cent. So as interest rates rise, the overflow of profits from the project to the equity shareholders lessens. Naturally, they are less inclined to participate in such projects when interest rates are high.
Do you see input costs coming down in the near future?
Costs move simply because of the basic economics of demand and supply. Where cement is concerned, there is a lot of capacity expansion taking place across the country which will materialise in around six to nine months. So I don't see a lot of concern where cement prices are concerned.
Steel prices will fall to levels lower than where they are today only when 15-20 million tonnes of capacity comes up at the same time. Steel maker POSCO signed a deal with the Orissa government in 2005 and they have not yet got the land. After a steel company acquires land to build a plant, it would take at least four years for a million tonne plant to start operations. Being a global commodity, steel will get affected by international prices. Cement, on the other hand, is more local and will depend on demand and supply.
What if the price of crude keeps rising?
The price of crude is high. But if it goes to $200/barrel, all government spending will come drastically because the focus will be on slowing down growth. But this is a worst-case scenario.
Do you think the PPP model will work?
There are plans to have greater public-private participation (PPP) but it requires more external funding than domestic, be it in the form of debt or equity. And the appetite of foreign funds for Indian infrastructure can be seen in the money private equity has raised. This should continue going forward because there are very few economies in the world that require $500 billion worth of investment.
Are you bullish on this sector?
The next trillion dollars in the economy can only be delivered if we witness spending on the infrastructure front. Infrastructure is required if we are to double our economy in the next five to six years. Few countries have such massive under-investment in infrastructure which allows returns on infrastructure to be significantly higher than the mean returns for the identical project abroad. The returns from projects in India are far higher than global averages.