Formerly as Goodlass Nerolac Paints, Kansai Nerolac Paints Ltd (KNPL) is the Indian subsidiary of Japan's Kansai Paint Company Limited. The company has a rich history that dates back to 1920 when it was established as Gahagan Paints & Varnish Company Limited in Mumbai. Over a decade later, in 1933, the company has acquired entirely by Lead Industries Group Limited, a British Group and thus, Goodlass Wall (India) Limited was born.
In 1957, Goodlass Wall became Goodlass Nerolac Paints Private Limited and went public in the same year. Then in 1986, Goodlass Nerolac became a joint venture of Tata Forbes and Kansai Paint Company, with the latter acquiring 36 per cent of its share capital. And finally in 1999, Kansai Paint took over the entire stake held by Tata Forbes and thus, Goodlass Nerolac Paints became Kansai Nerolac Paints, a wholly owned subsidiary of the Japanese major.
Kansai Paint is the largest paint manufacturing company in Japan and among the top ten coating companies of the world. After its acquisition, Kansai Nerolac has become the second largest coating company in India with a market share of over 21 per cent. The company is the market leader in the industrial/automotive segment supplying over 90 per cent of the OEM requirements. It is a leader in powder coatings as well.
Financials
FY 06
FY 07
FY 08
Net Sales (Rs cr)
1064.22
1288.62
1402.88
PAT (Rs cr)*
79.18
97.13
100.56
EPS (Rs)
56.88
44.21
44.46
RONW (%)
21.71
21.17
18.19
ROCE (%)
30.9
27.09
24.16
FY ending March 31 each year
*Net of non-recurring transactions
Investment Rationale
Robust Economic Growth
The Indian economy is growing at a robust pace of over 8.5 per cent per annum, translating into increased production, enhanced employment and expanding per capita income. What this leads to is higher purchasing power. And one of the most sought purchases is houses. In 2004-05, there were 201.7 million houses in India and 5.27 new houses are expected to be added to that number by 2009-10. Kansai Nerolac will benefit from this because housing is one the main drivers for the paint industry. Furthermore, better awareness through promotional activities has resulted in a shift from the usage of lime to high-quality paints, again meaning good news for Kansai Nerolac.
Low Per Capita Consumption
Paints are classified into two categories: decorative and industrial. The main end-users are housing and commercial properties for decorative paints and sectors like automobile and consumer durables for industrial paints. Currently, India's paint consumption is very low at 1 kg, compared to 22 kg in developed countries and 4-8 kg in developing countries. This leaves an enormous scope for boosting demand.
Volume Growth
India is currently witnessing a boom in construction sector and the paint industry is benefiting from it. Demand for fresh paints increased by 40 per cent during FY06-08E, while demand for re-painting was up by around 60 per cent. Furthermore, the auto sector was another key driver behind increased demand for industrial paints. KNPL's largest client is Maruti Udyog, which buys 90 per cent of its paints from the company. KNPL also supplies to other auto majors like Tata Motors and Toyota. The estimated increase in demand for paints is 151 million litres in the coming years and KNPL, with a 21 per cent market share, would potentially be able to fulfill 1/5th of the increased demand.
Capacity Expansion
To support the rising demand from its key customers, KNPL is in the process of expanding its capacities which would be increased by 15 per cent to 1,82,505 tonnes in FY08E. The same is set to be further increased to 195,280 tonnes in FY09E. The Rs. 100 crore capex would be funded through internal accruals.
EBIDTA Margins To Rise
KNPL's current EBITDA margins are at around 14 per cent. The margins are expected to rise to 15.3 per cent in FY09E. This rise will be mainly bolstered by the change in product mix towards value-added products. The company will also benefit from its huge capacity for higher margin industrial paints. The appreciation of rupee will benefit the company as well, as it imports about 30 per cent of its raw material requirements.
Risks & Concerns
De-growth In End-user Industries
The demand for paints is directly dependent on industries like construction and automobile. Any de-growth in these industries can adversely affect growth in the paint industry. An increase in interest rates can also subdue the demand for new houses and further slowdown demand for paints.
High Raw Material Prices
Oil-based paints are largely impacted by the fluctuations in crude prices as 40 per cent of the required raw materials are derived from crude. Any significant increase in crude prices can result in an increase in raw material prices and hence, affect margins.
Client Concentration
Maruti Udyog accounts for a major part of the KNPL's revenue from industrial paints. The lack of clients belonging to diverse sectors can affect the company.
Valuations
At the current price of Rs 615.35, the stock discounts its FY08E EPS of Rs 48.1 by 12.80x and FY09E EPS of Rs 52.5 by 11.72x. Historically, the stock has traded in a range of over 16x-18x. The stock is valued at 18x its FY09E EPS to arrive at a target price of Rs 945. But considering the current outlook and record levels of oil prices the stock is expected to remain an underperformer.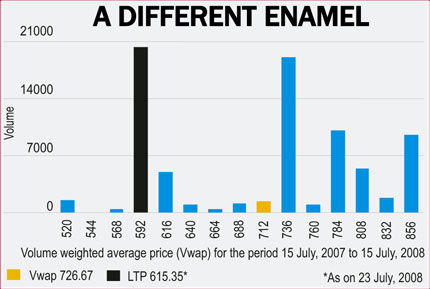 Source: ICICI Direct