The last month of the year ended with a whimper for the mutual fund industry, but the year as a whole was a resounding success. After having undergone a torrid 2008, when even the existence of some funds was threatened by the global meltdown's effect on India, 2009's recovery has almost doubled its assets.
The industry's assets under management (AUM), after climbing to all-time highs in November, 2009, when they touched Rs 805,684.48 crore, witnessed a dip of 1.62 per cent for the month of December, 2009.
The total assets for December, 2009 stand at Rs 792,665.68 crore. However, going back 12 months, in December, 2008, total assets of the industry stood at Rs 420,205.57, which marks a gain of 88.64 per cent for 2009 over that period.
When it comes to fund houses, if AUM comparisons are made against last year, it is Baroda Pioneer MF whose assets grew the maximum by 80.67 times. While in December 2008, its AUM was Rs 36.99 crore in December, 2009, it rose to Rs 2,984.12 crore.
There were noticeable laggards too. From December, 2008 to December, 2009, altogether three fund houses witnessed a fall in their assets: ING MF, HSBC MF and Benchmark MF. They witnessed a negative growth of 45.44 per cent, 30.80 per cent and 11.76 per cent.
In terms of assets, the biggest fund house, Reliance MF, has increased its assets by 70.89 per cent since December, 2008 from Rs 70,208.10 crore to Rs 119,981.79 crore in December, 2009. Over the same period, the second-biggest fund house,HDFC MF has increased its assets by an even better 107.85 per cent.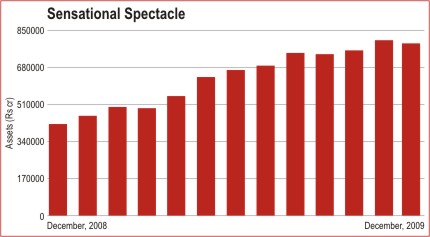 Out of a total of 37 fund houses, 25 of them have witnessed a fall in their assets in December, 2009. In terms of percentage, it was Shinsei MF which witnessed the maximum fall in their assets by a negative 24.29 per cent, while Benchmark MF witnessed the maximum rise in assets by 20.10 per cent in December.
Reliance MF also saw a fall in its assets in December, 2009 by 1.86 per cent. However, HDFC MF witnessed a bigger fall as it assets stood at Rs 97,183.85, thus going into the negative by as much as 5.09 per cent.
ICICI Prudential MF however, remained in the green and its assets rose by 0.36 per cent in December. The other big fund house, UTI MF, saw a fall in its assets by 2.12 per cent in December with its assets touching Rs 78,203.44 crore.
An Eventful, & Gainful, Journey
 
 
 Assets (Rs cr)
 
 
Fund Houses
 
 Dec '09
 
 Change(%) from Dec '08
Baroda Pioneer Mutual Fund
 
2,984
 
7,967
Taurus Mutual Fund
 
1,898
 
731
Religare Mutual Fund
 
15,865
 
296
LIC Mutual Fund
 
49,681
 
268
Sahara Mutual Fund
 
499
 
201
Kotak Mahindra Mutual Fund
 
41,402
 
190
IDFC Mutual Fund
 
25,361
 
186
DBS Chola Mutual Fund
 
2,901
 
164
Bharti AXA Mutual Fund
 
634
 
126
Canara Robeco Mutual Fund
 
8,517
 
108
HDFC Mutual Fund
 
97,184
 
108
JPMorgan Mutual Fund
 
4,252
 
108
ICICI Prudential Mutual Fund
 
82,432
 
97
Deutsche Mutual Fund
 
13,613
 
93
Birla Sun Life Mutual Fund
 
68,066
 
86
UTI Mutual Fund
 
78,203
 
84
Reliance Mutual Fund
 
119,982
 
71
Fortis Mutual Fund
 
8,602
 
69
Edelweiss Mutual Fund
 
130
 
68
Franklin Templeton Mutual Fund
 
31,962
 
66
Quantum Mutual Fund
 
85
 
55
SBI Mutual Fund
 
37,900
 
52
JM Financial Mutual Fund
 
8,853
 
51
DSP BlackRock Mutual Fund
 
20,183
 
51
Fidelity Mutual Fund
 
8,350
 
43
Sundaram BNP Paribas Mutual Fund
 
13,076
 
36
Tata Mutual Fund
 
23,779
 
35
AIG Global Inv Grp Mutual Fund
 
1,787
 
35
Mirae Asset Mutual Fund
 
264
 
33
Principal Mutual Fund
 
8,148
 
32
Morgan Stanley Mutual Fund
 
2,299
 
26
Escorts Mutual Fund
 
209
 
9
Benchmark Mutual Fund
 
2,008
 
-12
HSBC Mutual Fund
 
7,020
 
-31
ING Mutual Fund
 
1,517
 
-45
Axis Mutual Fund*
 
2,569
 
-
Shinsei Mutual Fund*
 
448
 
-

 
                                      *These funds are not yet an year old.