This article was first published in the November issue of Wealth Insight magazine. It looks at the situation after the merger announcement was made by Grasim Industries.
The process that was started by Grasim Industries, with the acquisition of UltraTech, erstwhile cement division of L&T, is finally coming to its conclusion. When Grasim, the flagship company of the Aditya Birla Group, bought over UltraTech for Rs 2,200 crore, it kept the brand name since it didn't want to lose out the brand value that UltraTech represented. But it did not want to lose out on its own Birla brand. Hence they kept both the companies separate.
Recently, it decided to demerge its cements business from its viscose staple fibre (VSF) business, part of Grasim, and ultimately to merge it with UltraTech. This concluded a process that was started way back in 2004. But the course of action chosen by them is a convoluted one and this has left many shareholders unhappy.
Their plan is to transfer all the cement related assets to Samruddhi, its 100 per cent subsidiary. Samruddhi would in turn issue one equity share of Rs 5 to every Grasim shareholder. Thereafter, existing Grasim shareholders will become 35 per cent owners of Samruddhi. Samruddhi would then be listed on stock exchanges.
After getting listed the second part of the process will kick-in. Samruddhi then would be merged into Grasim's cement division, UltraTech. Listing of Samruddhi, would allow Grasim shareholders to realize the actual value of its cement business. Hence when it merged with UltraTech, the valuation of the two companies would be market determined (How market has valued the two companies). That's why the swap ratio for last phase hasn't been announced, but the street view is that swap ratio will be in 1:2 ratio.
But the primary disappointment in the market is the Grasim would cease to command the premium it did all this years. Since it would transform in a holding company with only the low growth VSF business, and holding companies generally trade a discount. Currently, UltraTech is trading at 7.78 PE while Grasim is trading at 11.75 PE, the higher premium of Grasim is due to its combination of cement and VSF business.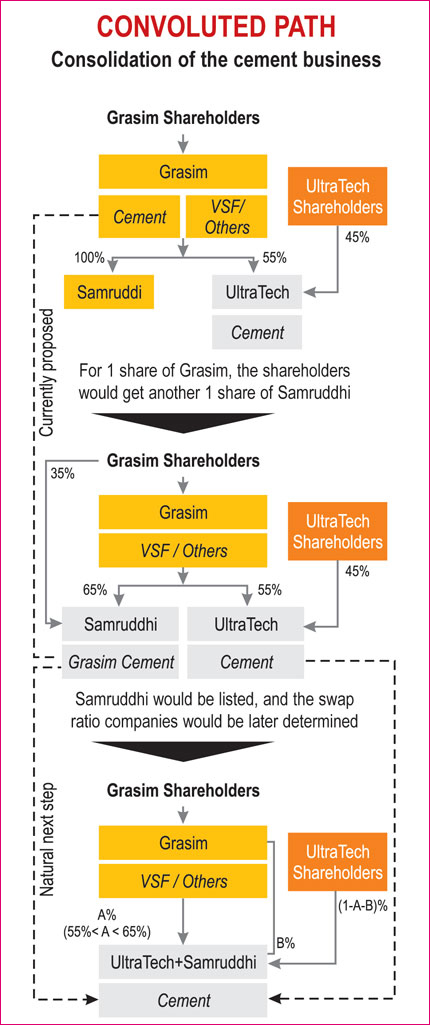 To read the full story, subscribe.
Check Performance:
Grasim Industries
UltraTech Cement
L&T
Aditya Birla Chemicals (India) Ltd
Aditya Birla Money Ltd
Aditya Birla Nuvo Ltd