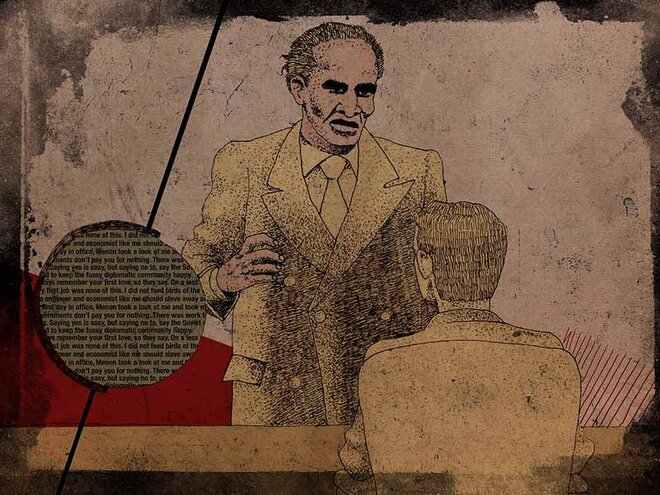 You always remember your first love, so they say. On a less romantic level, you always remember your first job, even if it is feeding your boss's pigeons or taking his daughter out for shopping.
My very first job was none of this. I did not feed birds of the feathered kind or take anybody's daughter out for shopping – my boss was a bachelor and hated women – and as for the pigeons, they were far away in Trafalgar Square, a mile or so from our Embassy in London where, believe it or not, I got my first job as an executive officer, whatever that means, working directly for the high commissioner (HC) himself, none other than the redoubtable Krishna Menon, who had just taken over his new job as free India's first HC.
Why an engineer and economist like me should slave away as an officer in a high commission, I do not know, but it was a good job and Menon was a good boss to work for. He was slightly mad but so were many others, drunk with the raw wine of independence, but that was not a deterrent. I must have been mad too. Otherwise, why would I be working in a high commission, instead of working for the planning commission back in India, the right job for someone who knew both engineering and economics?
On my first day in office, Menon took a look at me and took me straight out in his Rolls Royce to his tailor and ordered a proper suit, fit for a diplomat. I chose a pin-stripe suit with large pockets, the kind bankers wore and also a snazzy waistcoat with tortoise-shell buttons. Thus suitably attired, I was ready for the hard grind put in by diplomats, attending innumerable parties, downing tall champagne glasses and exchanging sweet nothings with young ladies sitting next to you at official dinners.
But governments don't pay you for anything. There was work to be done, sometimes really hard work, like replying to all those gilt-edge invitations to parties that used to land with a thud on my tiny desk every morning. Saying yes is easy, but saying no to, say the Soviet ambassador and his May Day party, is tough. Menon was a good teacher and I managed to keep the fussy diplomatic community happy.
But there was other kind of hard work too, especially when bigwigs from Delhi landed in London for their inevitable conferences. Once Nehru came and stayed three weeks, along with his advisers and hangers-on, most of whom were more interested in the bright lights of London than in the minutiae of the Cold War.
After Nehru had gone, I sat down in my office, with the Thames only a few yards away and decided I was wasting my time. I should be home, I thought, planning the dams and river valley projects Nehru had talked about to packed audiences of perfumed ladies in London, instead of swilling free champagne and flirting with large ladies from the Hungarian embassy. I told Menon so.
"Don't be stupid," he said. "You will be ambassador one day and represent your country at the UN." That was, I think, his ultimate ambition and years later, when he started falling asleep out of sheer exhaustion at his UN desk, I reminded him of that. History would have been different if he had listened to me, but that is another story.
I was tempted to stay on. The pay was good and I could buy all the books I wanted. Food and drinks were almost free and I was told I would soon be sent to New York to help our man there. But I had always felt I had strayed from my course and this was the time to quit before things got too interesting. I dropped everything and returned home, with a second-hand typewriter and a packet of brand new ribbons, but minus the pin-stripe suit. I wonder where it is now!
This article was first published on November 14, 2009.