JM Financial Mutual now functions without any CIOs for either equity or debt.
The fund managers report to the Investment Advisory Committee, which comprises of board members.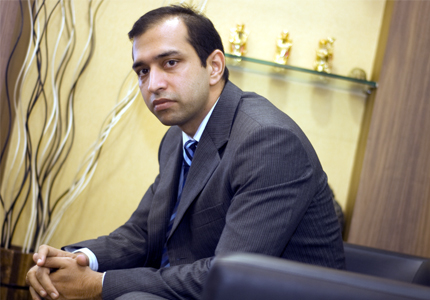 Poor performance of equity schemes in the market downturn has hit the fund's reputation. And with the banning of entry loads, this AMC, known for its high upfront commissions, has a tough task ahead.
Bhanu Katoch, CEO JM Mutual Funds, shares his views on these very issues.
JM Financial Mutual Fund was the blockbuster during of the bull run of 2006 and 2007, only to hit rock bottom after that. What will you be doing to revive performance?
When the equity markets were in the bullish phase in 2006-2007, most of our mid-cap and large-cap schemes performed extremely well. They surpassed the indices by a huge margin. In the year 2007, Sensex delivered 47 per cent and the BSE Midcap index returned 68 per cent. Our large-cap category of funds gave a 1-year return in the 45-50 per cent range while our flagship funds delivered in the 90-111 per cent range. In fact, a few of our schemes figured in the top 50 Lipper world rankings.
The year 2008 witnessed the most severe fall in the history of the Indian stock markets. Sensex fell by 52 per cent and BSE Midcap index fell by 67 per cent. Against this, our flagship funds fell by around 65 to 75 per cent.
We believe that in India, growth as a strategy will tend to do exceptionally well over a longer period of time. So a high beta/alpha strategy portfolio will always deliver. We believe that our investment style will offer substantial alpha as and when confidence starts to come back and money starts chasing growth countries and growth stocks! If you look at the recovery period between March 5, 2009 and June 4, 2009 and even the period following that, JM schemes have done much better than the indices and even the peers. JM Basic Fund delivered 154 per cent during that period and JM Emerging Fund delivered 135 per cent. Our other equity schemes gave returns in the 70-150 per cent range. During this same period, the Nifty returned 77 per cent and the Sensex, 83 per cent.
Was that the reason for your relative underperformance in 2008?
Our underperformance was due to lack of cash and also due to our high beta/alpha strategy that definitely did hurt us in an exceptionally bad year.
What stopped you from going into cash?
Had we taken one, we would have performed better but having said that, a 2008 kind of year comes only once in 50 years or so and, therefore, it can't become the basis for any change in our fund management style. We do not believe in taking aggressive cash calls and only in extreme conditions will we use cash as a strategy.
What are you saying to your investors right now?
Our equity funds will stay true to their respective mandates. But we will ensure that while we stay with a high beta/alpha strategy, we do that with more liquid names.
So funds where the mandate is growth will continue to focus on growth even at the cost of short-term volatility. Most of our schemes have a mandate to chase growth and we will stay true to that even in the future. We believe the growth approach will provide maximum rewards to investors as India continues on its path to becoming an economic superpower.
So you are basically saying that your schemes will do well when the market picks up.
We feel that after a bit of consolidation the market will move up and we may see 17,000 within the next 6 months. In the next 2 years time we expect Sensex to rise above 25,000. Our schemes are well positioned for this kind of an upturn.
You spoke about more liquid names. Have you put any process in place to ensure that you do not have undue exposure to illiquid stocks?
All the liquid names in 2007 became illiquid in 2008. And what happened took the entire market by surprise. But several measures have been put in place since then. We have strengthened our parameters on stock and sector concentration, and stop-loss limits. Our risk parameters now have multiple "flag-off" levels which are more stringent than the regulatory requirements. We also have a more pragmatic approach towards risk management with multiple checks and balances. All these act as pointers for the fund management team to proactively balance the risk-reward aspects of their respective portfolios. And the IAC now has a greater role to play.
How do you want investors to perceive JM Mutual Fund?
We manage funds in 4 broad categories: equity, long-term debt, short-term debt and arbitrage.
On the equity side, we will stick to a high beta/alpha strategy. We believe that our investment style/growth approach will offer substantial alpha to investors in a growth market like India.
We are well known for our debt fund management capabilities. Even in the liquidity crunch crisis of October 2008, we did not resort to availing credit from the RBI's special window. We were the first to start arbitrage funds and are doing well in that category. We will soon be launching our PMS. Unfortunately in India, PMS is more a structured product with passive strategies. We may also start with similar products, but over a period of time we will look to innovate in this space.
You are a very small fund house whose equity returns got hammered in the fall of 2008. The competition is huge and that too from large and well established players. Is that not challenging?
I believe that the potential for growth of mutual fund industry in India is huge. One can easily compare that to any emerging market where the industry is large. If we take average AUM as a percentage of GDP, it is pegged at around 10 per cent in India compared to 80 per cent in the U.S. Even if you look at mutual fund AUMs as a percentage of bank deposits, it is only around 20 per cent in India as compared to 140 per cent in the U.S. Big-to-small is a wrong way to look at things. Finally, it will be the fast that will beat the slow! We want to focus on delivering performance and offering superior service standards to our investors and partners.
Recently, JM Financial Asset Management Pvt. Ltd. divested an 8 per cent stake equally to two global institutional investors, Valiant Mauritius Partners FDI Limited and Blue Ridge Affiliates, namely BRLP Mauritius Holdings II and BROMLP Mauritius Holdings II, respectively. This sale of stake brought in Rs 63.86 crore. Prior to this, the AMC's paid up equity capital was Rs 54 crore. These players will add significant value from a global markets perspective.
How big is the investment team?
The equity team comprises of 10 members 4 fund managers, 2 dealers and 4 research analysts. On the debt side, we have a 5 member team comprising of 2 fund managers, a credit appraisal head, a dealer and a research analyst.
With no CIO in place for either debt or equity, who oversees the team and guides them?
Our fund management team is very strong and has substantial experience. They are accountable to the CEO and the IAC.
The team works very closely with the IAC that meets once every 15 days.
Your fund house is supposed to pay the highest upfront commission of 1.50 per cent. Will that hold you in good stead now that entry loads have been banned?
Because of the banning of the entry loads businesses will become more capital intensive. In the short term we will all need to work hard to adjust. But soon the industry will move from a high-margin-low-turnover model to a low margin-high-turnover one.
The institutional segment still contributes some 50-60 per cent of the AUM. In the coming days you will see retail contributing big time to the growth of the industry. Mutual fund penetration is still restricted to the top 8 cities and about 3 per cent of the households have invested in funds. There are 5,545 urban towns and 6,40,000 villages with a rural-urban mix to the ratio of 70:30. Incrementally, prosperity levels and literacy levels are going up and that means huge scope for growth.
IFAs will play a very critical role in the industry's growth. Once the PSU banks start selling mutual fund products, the penetration levels will only increase. There are 300 commercial banks with 72,000 branches.
This interview had appeared in September issue of Wealth Insight