Soft-spoken but very articulate, Huzaifa Husain recently took over as Head-Equities, AIG Investments, India. He now officially manages AIG India Equity Fund and AIG Infrastructure and Economic Reform Fund. Going by the success of their Dublin-based India offshore fund, to which he is a key advisor, this is good news for investors. He speaks to Larissa Fernand on various issues regarding his funds, his investment style and specifically his views on infrastructure.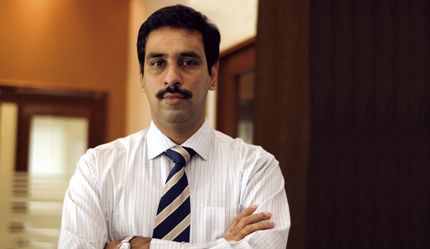 It was in the middle of June that you took over AIG India Equity Fund and AIG Infrastructure and Economic Reform Fund. And there were substantial changes in the top 10 holdings over the May portfolio. What is your investing strategy?
The portfolio has been changed, both in terms of our top holdings as well as our sector positioning. Right now, we are of the view that the current business conditions are not very conducive. We have not yet recovered from the excesses of the past. Conditions are still difficult for companies to do business in, whether it is in terms of final demand, raising capital or leverage on the balance sheet.
So, the focus is on investing in companies which are strong, healthy and are fairly valued. Such companies are generally able to improve their competitive positioning within their industries in times like this.
So, in line with our focus on bottom up stock picking, we are choosing companies which fit the above criteria across sectors.
What is the thinking of combining infrastructure and economic reforms into one fund?
We believe that infrastructure and economic reforms are the two basic pillars on which India's economic growth will sustain.  

Let's talk of infrastructure first. If India has to succeed in the next 10 or 15 years, it is investments in infrastructure that is going to be the key to this growth. It is estimated that if India has to sustain an annual growth rate of 9 per cent over the next 10 years, we have to invest around $1.5 trillion only in infrastructure.
To put it very simplistically, take the city of Mumbai. If the vehicle population of this city grows at 9 per cent every year, then in three years, the vehicles on the road will increase by around 30 per cent. Therfore, unless road capacity simultaneously increases, traffic will be a nightmare. So, for the smooth flow of any economic activity, we need infrastructure.
The second is economic reforms. There are certain pockets in India, in terms of certain industries, where economic reforms are still needed to attract private investments and eliminate distortions. These would broadly encompass financial sector reforms, FDI rules, rationalizing subsidies which affect the country fiscally. Such reforms will ensure a smoother and more sustainable growth for the country.
Hence the logic of the fund in combining these two issues.
Everyone knows we need infrastructure. But can the government deliver on this front? What are the hurdles you see?
Let me mention a few parameters required, and mind you, this is not an exhaustive list.
irst we need the law. In the past 10 years, the Indian government has reformed most laws — telecom, electricity, roads. Most of the basic legislation is in place.
Then we need capital. The Indian government's finances cannot fund $1.5 trillion. So they have adopted the Public-Private-Partnership (PPP) approach. This is fine, and private investors are more than willing to come in with the capital and expertise provided they get good returns.
Then there is the environmental issue, clearance of which may be time consuming. All projects have to be cleared by the Environment Ministry. This is fair because all infrastructure projects may have a significant environmental impact.
The biggest hurdle, and the most critical, I believe is the pricing of infrastructure services. Who is going to pay back the investor? While pricing is more or less market driven in telecom, this is not the case with other infrastructure services. So in electricity, subsidies distort State Electricity Board's (SEB's) finances; in case of urban infrastructure, services are not priced at market levels, etc.
It is very difficult to price an infrastructure service in this country. Let's talk of the water supply in our house. The price that one pays for water is so low that no private investor would want to get into this service. So, unless the consumer is willing to pay much more, there is not going to be any private interest in this sector. Similar issues exist in case of oil pricing, fertilizers, etc. Moreover, these are politically very sensitive issues. When one sees clear mechanism where the investor does not take on risks other than market related, one can see investments pick up significantly.
Can you be more explicit?
Let's say that I am investing in telecom infrastructure. I know that I can recoup my investments from the user of the telephone service. Look at India where most of the subscribers from the lower income strata are pre-paid, automatically ruling out the credit risk. So, there is a market mechanism which is repaying me for the money I have invested in telecom infrastructure.
Take the case of airports. The money is recovered from passengers. In some airports, a User Development Fee (UDF) is charged. So, that is one way of pricing an infrastructure service. The same is the case for tolls that are charged for roads and bridges. 
So infrastructure investment is taking place in telecom, airports and roads. But in other areas, there are lacunae which have to be plugged. 
Now let's look at power. I set up a power plant to sell power to the SEBs. Now their finances are not good simply because they are subsidising the power to some sections of the economy. I am not against subsidies since certain sections of our society have a low per capita income. For instance, if a farmer does not get electricity, he cannot produce crops. But it must be ensured that the subsidy does not come out of the SEB's finances. It must come out of the government's finances. The government must give the subsidy, not the SEB. The SEB must be in a position to keep making money to pay the generator of power, who in turn, will not have a credit risk on the SEB. The Electricity Act 2003 establishes the fact that subsidies must be given by the state governments, not the SEBs. 
But how does one price irrigation? Even for that matter, a gas cylinder for cooking purposes. A rich man gets the same subsidy as the poor man. There is no mechanism in place where the rich man pays the full price for an LPG cylinder while the poor man pays a lower rate and gets his gas subsidised.
At the end of the day, infrastructure is a public good. A rich man and poor man will use and benefit from it. But at whose level will the service be priced?
What do you look for when scouting for an infrastructure stock?
For a company to succeed in this space, two very important aspects are capital and execution abilities. We scout for companies that have sufficient capital to invest because these are very capital intensive industries with long gestation periods. They also need to have very good execution abilities to ensure timely completion of a project.
Strong management, access to capital, execution ability and being fairly valued when compared to its peers are what we look for.
You speak of stocks being fairly valued. Did infrastructure stocks not run up significantly in the March-May period?
Of course they did. They have already discounted the fact that infrastructure investments are going to happen probably without any hitch. I take that with a pinch of salt because in India, investment in infrastructure sees a lot of delays. Even in 2006-07, this was the case when capital availability was easy.
Yes, valuations on an aggregate level have run up significantly. But what we have done is choose certain companies within them which are cheaper than the competition. So, we are keeping leeway for an upside should economic reforms take place.
What was the reason for the market rallying after March 2009?
Let's look at the market cap to GDP ratio. In January 2008, it had reached 160 per cent. This was very high compared to history and also the fact that eventually, market cap and GDP needs to go hand in hand.  By October 2008, it was down to 60 per cent and has remained around that level since then till March 2009.
Good news and bad news keeps flowing into the market. If the value is too high, then bad news gets magnified leading to a correction. If the value is too low, then good news does the reverse. This year, investors began to see that earnings are not collapsing because of the enormous stimulus given by the government. There were no major bankruptcies, which was a risk in October 2008 when companies could not raise equity or debt. Expectations of at least 5 per cent economic growth looked reasonable. All this combined with extremely low valuations led to the rally.
What parameters do you employ when you decide to sell a stock?
Relative valuations are definitely the main one. The character of a company — good management, good business model, good brand name — does not really change in the short term. So, one would sell a stock if most of the positives are built into the price.
Of course, this is apart from any corporate governance issues or other extraneous factors.
Would that necessarily translate into you refraining from churning your portfolio frequently? Would it be safe to call you a buy-and-hold investor?
I am not so sure about these classifications. The stock comes into the portfolio if these three criteria are satisfying — business prospects, management quality, valuations. If one or more of these changes significantly, then the stock would go out of the portfolio. If the market is virtually stationary, the portfolio would not be churned much. But in a volatile market, it would get churned.
You speak of good people and business abilities as important criteria. So how important is it to meet the management?
Very important. It's not so much to gather financial information because most of it is anyways in the public domain. Over a period of time, interaction helps you to understand the management strategies better. You get a first hand impression on the nature of competition, how they plan to take it on, and how they view business conditions on the ground.
We focus not just on meeting the company management but try to meet other companies who would either be supplying to or buying from the company we are researching.
If a company's management chooses not to meet you but you are really bullish on the company going by what you see and the financials, would you still buy?
Yes. Even if a company chooses not to meet us, there are their competitors who would, and that gives us a fair idea of what we want to know. Also, the disclosure norms are far superior today than they were a decade back and most of the information one requires is already available in public domain.
You are the only fund manager. Since you emphasise bottom-up stock picking how many analysts do you have?
I have four analysts on my team. But here, all of us are analysts in the sense that I am the fund manager but that does not mean I am no longer an analyst. I too cover certain companies though my main function is to run the fund. We believe that even the fund managers must not lose touch with research.
Our philosophy is to be bottom-up stock pickers. That would mean being close to the company, which in turn entails a lot of research.
All of us work on a proprietary system called EPIC. It's a system which combines two elements of equity research. It combines financials of Indian and global companies and it gives a methodology to research. We have our own proprietary way of doing research wherein we look at the company's business, test valuations and do a consensus check with the sell side analysts. All these factors go into giving a recommendation. So the methodology does not change whether we are analysing a steel company in India or Brazil. So, in a sense you can say for sectors where global trends play a significant role such as commodities, we are able to leverage upon our company's local analysts in various countries.
As a prudent risk measure, if any analyst gives a 'sell' on a stock, the portfolio manager has to sell the stock; after all it is the analyst who is closest to the company. This is a form of risk control. There is no over-riding discretion that the fund manager has in such an instance. But in the case of a 'buy', the discretion rests with the portfolio manager.  
Banking is one of your favourite sectors. Why?
Banks, especially the ones we have in our portfolio, have been able to access funds at a much cheaper cost than their peers. This, in times where I mentioned things have not healed completely on the ground, gives them considerable pricing power. Combine these business conditions with reasonable valuations and we think the stocks we own should outperform.
You have no real estate companies in your funds. What keeps you away?
Last year, they faced cash flow problems. Some of them have managed to raise equity and restructured their cash flows. But in general, as I see it, the demand on the ground has not picked up to the extent that current valuations can be justified. 
You are underweight on the energy sector. What is your view on it?
The oil sector in India is distorted because of controlled prices. Globally, the demand for oil products is not showing any signs of improvement causing margins to come down. These two reasons keep us away from this sector.
With the price of crude going up globally and the resultant rise in petrol and diesel in India, inflation is definitely going to rise. Where do you see interest rates heading in such a scenario?
At this point of time, I do not expect interest rates to go up significantly. The reason being that demand from the real economy is still absent. Incremental credit in India since December 2008-end till early June 2009 was up a miniscule 4 per cent. Last year same period, it was up 11 per cent. Unless demand revives and the pickup in credit takes place, interest rates should not rise significantly.
Finance Secretary Ashok Chawla said that he expects India's growth to be close to 7 per cent. What will hinder this?
GDP grew at around 5-6 per cent over the past two quarters because of the stimulus packages given by the government which included a slew of measures like reduction in taxes, thereby reducing the burden on Indian consumers. On the other hand, the government also increased its expenditure by the way of introducing a debt relief program for the farmers, providing rural employment to farmers, by implementing the Sixth Pay Commission payouts etc.
But private demand — consumption, exports, investment — are still running very low in terms of growth rates. For India to grow at 7+ per cent, either the government has to add a fresh stimulus, though it is constrained with its fiscal deficit, or private demand has to increase especially for infrastructure investments.
The contraction in Indian exports has been worse than for countries such as South Korea and China. Is that not worrying?
Frankly, there is not much India can do. But, India is one of the few emerging markets where exports-minus-imports are still negative. Most emerging markets have net exports. So, exports drive a significant portion of their economy in absolute and net terms. When I say net terms, if exports drop, their entire economies get affected. In India, if exports drop, export-oriented sectors get affected. But imports, which are predominantly crude oil, also drop due to low demand and fall in prices. So, the net impact of exports and imports does not really affect the economy.  So, relatively speaking we would be better off than most other economies as far as exports are concerned.
This interview appeared in the July 2009 issue of Mutual Fund Insight.