The latest rally has not convinced Jitendra Sriram, Vice President & Head of Fund Management, Equities, HSBC Asset Management (India) Pvt. Ltd, that the bull market has begun.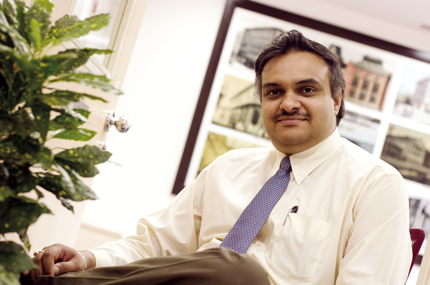 In his view, it was apprehensions of the dollar as a safe haven that led to the outflow into emerging market equities. In other words, a dollar debasement kind of rally. Here he gives his views on the market as a whole.
In your opinion, what was the reason behind this rally?
Post the collapse of a few firms in 2008, there has been a huge amount of risk aversion in the global market. This could be one of the reasons that foreign institutional investors (FIIs) were unwilling to go into perceived risky assets — commodities or emerging market equities. This state of affairs continued till March 2009.
Recent events in the global economy may have weakened the U.S. dollar against various asset classes. This may have prompted the outflow of money from FIIs into emerging market equities, leading to the rally. So, this was just a bear market rally.
No. I am not saying that it was a pure bear market rally. Risk aversion had touched such levels that no one was willing to commit capital to anything. Credit markets were under pressure and loans were not available. Now from that state of affairs, the market has moved to a more realistic assessment of risk.
What changes would convince you that a rally can be sustained?
We need to turn the corner and the growth rate needs to start accelerating for the markets to rally. Just the lack of negative news will not be able to keep the market sustained at a high level.
What are the indicators you would look for to show that we are turning the corner?
At a global level, unemployment data has to start turning. It is around 9 per cent now but could get into a double digit figure in the U.S. Once it starts easing, it could be a positive indicator.
The current account deficit of the U.S. is another indicator. As the dollar depreciates and corporate America gets more competitive, exports could start rising.
In India, the key that the market may look for is how the government funds the fiscal deficit — whether it will be with reforms, to what extent it strains the market with its borrowing programme, whether it permits more private money to come in or relaxes its foreign direct investment (FDI) regulations.
India is still a growth market. Growth may not be 9 per cent, but could be 6 per cent. Assuming a normal monsoon, it may be achievable.
What are the challenges you see to growth in India?
The first part of the rally, in March 2009, was all about the global dynamics changing.
The second part of the rally, in May 2009, was the election results. It was a game changer since we had not seen a government which has a high probability of lasting a full term for over a decade. It's not a fractured mandate where you have one central party and 15 supporting parties. We now have one dominant party and a few fringe parties — a smaller and more stable coalition. This could be definitely more conducive to reforms.The market then began pricing in the hope and expectation of reforms.
Now expectations are high where the Budget is concerned. People are expecting an infrastructure push, Fringe Benefit Tax (FBT) and Securities Transaction Tax (STT) being knocked out, etc. But one cannot expect just positives. The equation has to balance out. There will be other pulls and pressures like customs hikes, taxation hikes or excise hikes. The Budget cannot be just about "goodies" being handed out.
Last year we had the food subsidy, the oil subsidy, the fertilizer subsidy. This year we are better off. Crude prices have halved from last year. Fertilizer subsidies ought to become lower given the domestic availability of gas from Reliance gas fields. But we must remember that we have come out with two stimulus packages which means higher level of spending. The government has limited ammunition now so it must be focussed on where to use it.
The key that the market may look for is how the government funds the fiscal deficit — whether it will be with reforms, to what extent it strains the market with its borrowing programme, whether it permits more private money to come in or relaxes its FDI regulations.
I also feel that the monsoons may be a potential risk. The Wholesale Price Index (WPI) is very benign but the Consumer Price Index (CPI) is higher at around 7 per cent and most of it is driven by oil seeds and the Minimum Support Price (MSP) of paddy and wheat which was hiked last year. CPI is the "felt" inflation and the government will be cognizant of that. If the monsoon is below par resulting in shortfall in agricultural output, it may become worrisome for the government because it may lead to inflation.
If you look at the inflation on a y-o-y basis, we are still enjoying the base effect of high commodity prices of last year. That may wear off by October 2009. From November 2009 onwards, inflation could start to rise. But if agricultural output stumbles, then this number may end up overshooting on the higher side. This could be a big worry.
You say people are expecting a big infrastructure push. Do you think the government can deliver?
When the government was moving out of office, it was clear that there was still work to be done on the reforms front. They spoke about the merger of public sector undertaking (PSU) banks and insurance reforms. They had done work on the Jawaharlal Nehru Urban Renewal Mission  and road sector projects. So they clearly understand that this is an area of focus that needs to be sustained  to keep growing.
The government's biggest challenge is roping in the fiscal deficit. Last fiscal we were saddled with a huge petroleum subsidy bill and fertiliser subsidy bill. Now they have to manage a fine balancing act of not tripping growth and maintaining a prudent position on financial space.
We feel that one way is to invite more private capital to step in and not involve the government too much in the spending efforts. This could be done by unleashing FDI in infrastructure, aviation and insurance.
Where do you see interest rates heading?
Clearly short-term liquidity is high. I do not anticipate any near term interest rate hikes. Post-December 2009, I see some hardening on the interest rate front because this phase of benign inflation might be on its last legs.
Do you think the worst is behind us in terms of corporate results?
Probably yes. India is still a growth market. Growth may not be 9 per cent, but could be 6 per cent. Assuming a normal monsoon, it is achievable.
In the last rally, smaller stocks once again came into the limelight. What was the reason?
Two fundamental attributes have changed.
In 2008, liquidity vaporised from the mid- and small-cap space. It is not that fund managers are averse to mid- and small-caps per se. It is a pure liquidity call. You do not wish to be saddled with a stock which you made a painful entry and probably an even more painful exit. Now that liquidity has begun to come into the market, and if it continues, mid- and small-caps will be sought after.
The second issue is the deep freeze the global credit markets went into. Capital itself became a scarce commodity. Six months ago, in October 2008, the bluest of blue chips was borrowing at double digit interest rates for 5-year paper. And paper was not available to the mid- and small-cap universe. There was an acute credit crunch in their entire business model. Now with the global credit markets thawing there is some kind of liquidity being unleashed. Borrowing costs fell to 8-8.5 per cent for 5-year tenure. Smaller companies can borrow at 9.5-10 per cent.
How bullish are you on the domestic growth story?
Quite bullish.
We have a very favourable demographic structure which may see a huge amount of people coming into the income stream. This may have a multiplier effect. Sixty five per cent is clearly rural which is not linked too much to global vagaries. Consumption — discretionary and staples, may do well over a longer period of time.
At the rural level we have MSP increases in paddy, soya, sugarcane and wheat. This benefits the wallet of the farmer. The farm loan waiver has trimmed the leverage of the farming community. The pay commission hike may result in an increase in spending because it involves the central government employees which spans all across — the bureaucracy and defence. We could also see the states mirroring the central government pay commission in some format or the other. This could act as a further catalyst on the consumption side.
What are you positive on right now?
We're closely watching financials (i.e. banking) which is a barometer of the economy en-compassing the entire basket of consumption and infrastructure.
Consumption as an overall theme for India could do well, over the long run and in the near term. This will include discretionary spends like 2/4 wheelers, telecom etc.
We are positive on energy because that is an area where we are seeing a lot of investments and capacity going on stream. Refineries being commissioned. Oil and gas fields being commissioned.
We are positive on capital goods. Last year margins for this sector was hurt on account of high commodity prices which could reverse out now.
We are underweight on real estate and commodities. Commodity prices (crude oil and steel) are still down on a y-o-y basis.