The already minimal figure of inflation has fallen to a low that most people alive today would be hard-pressed to remember.
This week's (ended May 30) wholesale price index figure has fallen to three decades' low of 0.13 per cent, while it stood at 0.48 per cent in the previous week (ended May 23).
The corresponding year-ago weekly figure was 9.32 per cent.
However, as far as consumers are concerned, the latest low figure may as well not exist. They think that what is relevant to them is the year-ago figure, which almost turned into double digits.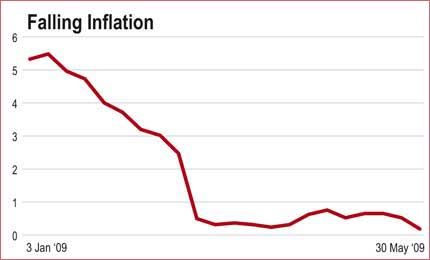 The feeling is not surprising, simply because the prices of all the essential commodities like fruits and vegetables, spices, and pulses have reached new highs. Among the noteworthy essential food item that jumped up by double digits involves the prices of eggs – up by 11 per cent.
However, there were certain items that escaped the price rise, and in fact, logged a fall in prices, but their effect will filter into the common man's consciousness in a very indirect manner. These included machinery, textiles. Electrical generators' prices fell by 6 per cent.
Inflation has been oscillating between zero and 1 per cent for 13 straight weeks now and increasingly there are indications that it will fall into negative territory.

This may well spur banks in India to cut rates, as was being insisted upon by the Finance Minister Pranab Mukherjee for weeks now, the urgency of which was underlined by him yesterday too when he met the heads of public sector banks.

He had said that banks have not cut their prime lending rates (PLR) even though the Reserve Bank of India (RBI) had cut its key rates. Banks will have to make credit offtake cheaper for people and businesses to start spending more thereby giving the economy a chance to grow. However, banks believe that it would be dangerous to make credit available at lower costs as there is a lot of uncertainty about the economy and threats of non-performing assets is keeping them in the status quo mode.

Expectations are that, the RBI, in its first quarterly review to be held next month, will be forced to cut policy rates further, by at least 25 basis points.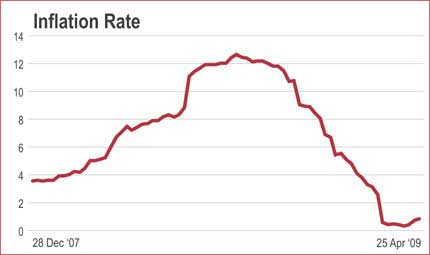 Also Read:
Inflation Preceeds Prosperity
Many Shades of Inflation
The Crorepati Impulse