Sahara Mutual Fund is one of the smallest players with an asset base of just Rs 182 crore, out of which equity is just 30 per cent.

Nevertheless, it has a fairly strong offering on the equity side. Sahara Power and Natural Resources, Sahara R.E.A.L, Sahara Infrastructure, Sahara Wealth Plus, Sahara Mid-Cap Fund, Sahara Growth and Sahara Tax Gain are the funds on offer. Sahara Growth is a 4-star fund. After being an underperformer for quite a while, it has pulled up its socks in the last two years. Though it has a presence across various debt categories, its liquid fund has been its star performer. Sahara Liquid was a 5-star fund but now has a 4-star ranking. Apart from these, the other funds have been average performers.
What's interesting about this fund house is that it took a courageous call by making the management fee performance linked. That's the reason why some schemes have the variable pricing and fixed pricing option. Though the initiative is worth appreciating, it is quite meaningless if not backed by performance.
Sahara India Financial Corporation Ltd. is the sponsor of Sahara Mutual Fund. Prior to the name change in 2004, Sahara Mutual Fund was First India Mutual Fund which was incorporated in 1996.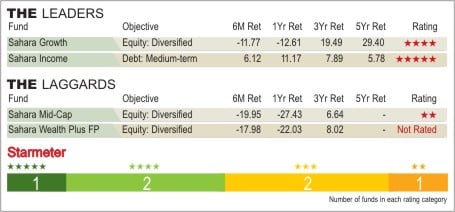 Explanation of the data tables and graphs
This review appeared in the October 2008 Issue of Mutual Fund Insight.