Edelweiss Mutual Fund hit the scene in September with two funds, Edelweiss Liquid Fund and Edelweiss Liquid Plus Fund. At the launch of the funds, the CEO had remarked that they would be launching 10-12 products over the next one year across the spectrum of equity, derivatives and debt.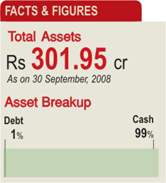 Edelweiss Asset Management Limited is  a subsidiary of Edelweiss Capital Limited, an Indian financial services company founded in 1996.

Explanation of the data tables and graphs
This review appeared in the October 2008 Issue of Mutual Fund Insight.